How to Create a Home Video Studio For Real Estate Agents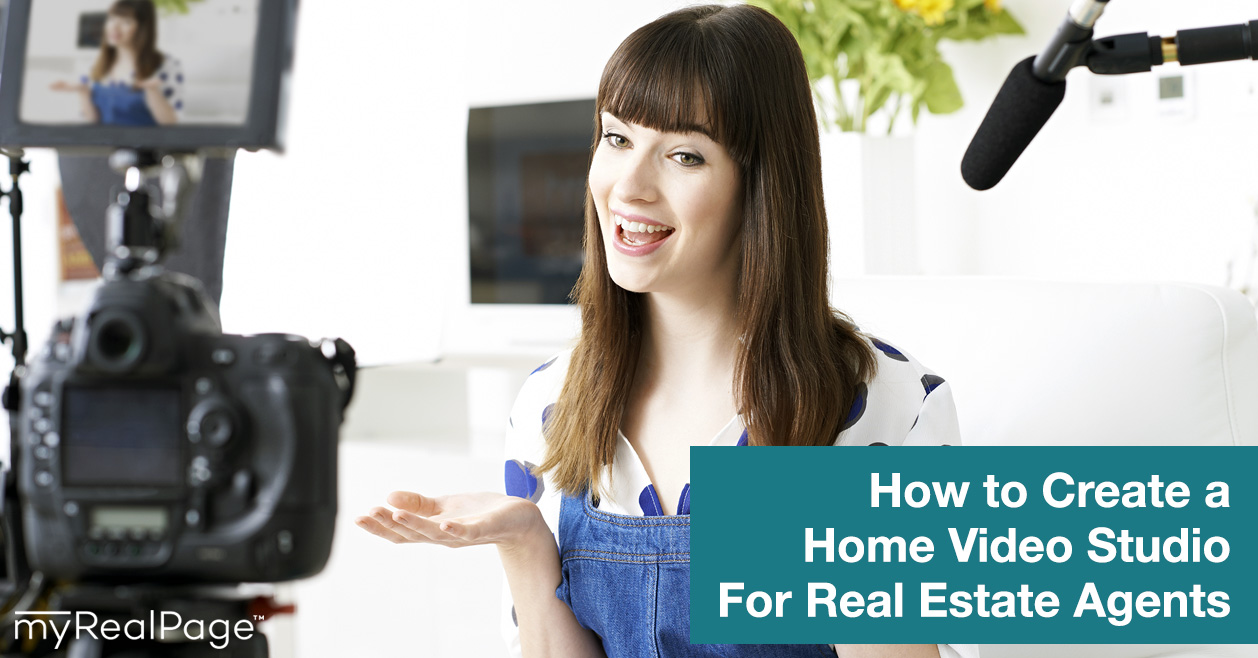 Our last post began with a look at the two most popular excuses real estate agents have for not creating videos.
To recap, those reasons were:
"I don't know how to!" 

and
"There's NO WAY I'm going to be on camera!"
We tackled #2 in our last post (how real estate agents can create video without being on camera).
Today, we're solving #1; specifically, how REALTORs® can create their own home studio for filming videos.
Creating a DIY home video studio doesn't require a lot of money or technical skills, and the results are high-quality, professional-looking videos that will take your real estate video marketing game to the next level.
Here's how to do it.
Step 1: Find Your Space
When you watch videos by popular YouTube vloggers, you'll notice they all typically have one thing in common: their background setting looks really nice. There's not much visual distraction, and the room is light and bright.
Check out the video below by California real estate agent Loida Velasquez.
It looks like she's at home, but the space she has chosen is free from knick-knacks, appliances, and clutter. Loida is in focus, while the background is softly blurred. The light is bright, but flattering.
Take a cue from Loida when choosing a space in your home to film from. A spot with light-coloured walls and lots of natural light facing you is helpful. Here are a few other ideas:
Stand in front of a large bookshelf

Sit at a desk or a table that has been cleared of most objects; move the table in front of a wall free from decoration if the original setting is distracting

Choose any light-coloured wall that isn't covered in picture frames or furniture; add a plant in the background

Sit at a kitchen island, with the camera turned away from any appliances
Can't find a good spot? Add a backdrop.
Amazon offers backdrop kits for as low as $15, enabling you to film your videos against coloured or textured backgrounds. Remember that simple is best; avoid printed backdrops with noisy designs.
Lighting is essential to your setting. Whenever possible, you want to make use of a maximum amount of natural light.
If natural light is in low supply, you can use other lighting sources to keep things feeling bright. Umbrella lighting kits add a professional edge to your videos, and there are great options to be had for less than $60.
Ring lights — either on a stand, or mounted to your camera — are another good (and typically affordable) option.
Whichever lighting sources you choose, remember that you should always be facing the light. And don't forget to play around. Adjust the positioning of your lights and the number of light sources to figure out a setting that works best for you.
Step 2: Get the Right Equipment
You're going to need a camera, obviously.
What kind of camera you choose (and how much you invest) is completely up to you.
Option 1: your smartphone. Depending on your current phone, you may already have a high-quality camera ready to go. The later models of iPhones and Samsung phones (released since 2015) have excellent built-in cameras that can crank out pro-looking video quality. Plus, they're super convenient for on-the-go filming.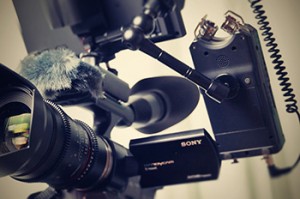 Option 2: a handheld camera. Maybe you've already got a great DSLR camera, like a Nikon or Canon, that shoots in HD. Great! You're all set. If you don't, and you want to make an investment in an excellent camera for capturing both personal and professional photos and videos, consider one of the beginner-friendly DSLRs from this list.
Or if you prefer more of a traditional "vlog" camera with a flip-up screen, check out the Canon PowerShot G7 X Mark II or the Sony RX100 IV.
Option 3: a webcam. Webcams have come a long way since the clunky hunks of plastic we used 20 years ago. Nearly all laptops have built-in webcams, but you can buy separate cams that offer much better capability. If you plan on using your laptop or desktop for all your video work, a webcam can be a nice option, though less mobile. Logitech makes an HD webcam that offers excellent image and sound quality.
We highly recommend adding two more pieces of equipment to your home studio: a tripod, and a microphone. There are plenty of affordable options for both, and they both make a noticeable difference to the quality of your videos.
The tripod you choose will depend on your camera. If you'll be using your phone, a tabletop smartphone tripod will cost you next to nothing. Regardless of your camera type, however, we'd recommend selecting a model that can stand at full height, so your video setup and background isn't limited.
As for microphones, a lavalier mic (clip-on) offers plenty of flexibility. There's no shortage of options at different price points and with different features. Quality and capability vary, so read reviews carefully to pick a mic that best meets your needs. This popular lav microphone kit offers good value at a low price point.
Step 3: Pick Your Software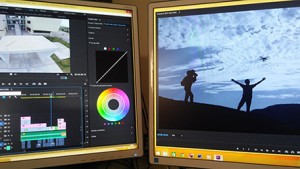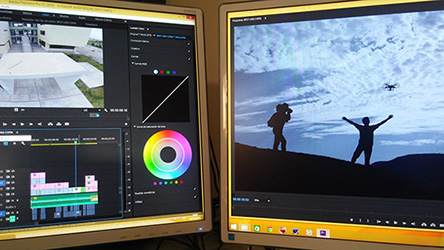 Your videos will need to be edited. You'll want text overlays, maybe some colour correction, and some audio boosting. This is where software comes in.
Depending on what kind of computer you have, you may already have a video editing program that will suffice. Use a Mac? You're all set, thanks to iMovie. It's easy to use, and offers pretty much all the tools you'll need to create a great video.
Those who don't use a Mac can choose from one of many free and paid video editing programs. HitFilm Express is a powerful free editor, with add-ons that can be purchased. Lightworks is another awesome free option.
If you're using your smartphone to create videos, the right app will be your best friend. Adobe Premiere Clip is a mobile version of the desktop Adobe video editing software. Available for iOS and Android, it's a user-friendly way to clip and combine clips, and add titles, transitions, music and more. FilmoraGo, also for iOS and Android, is a similar editing app, with more youthful and creative filters and effects.
Has this post inspired you to create your own studio? What other video tips and tricks are you interested in learning? Let us know in the comments!