Creative Ways to Use Instagram Stories to Grow Your Real Estate Business in 2018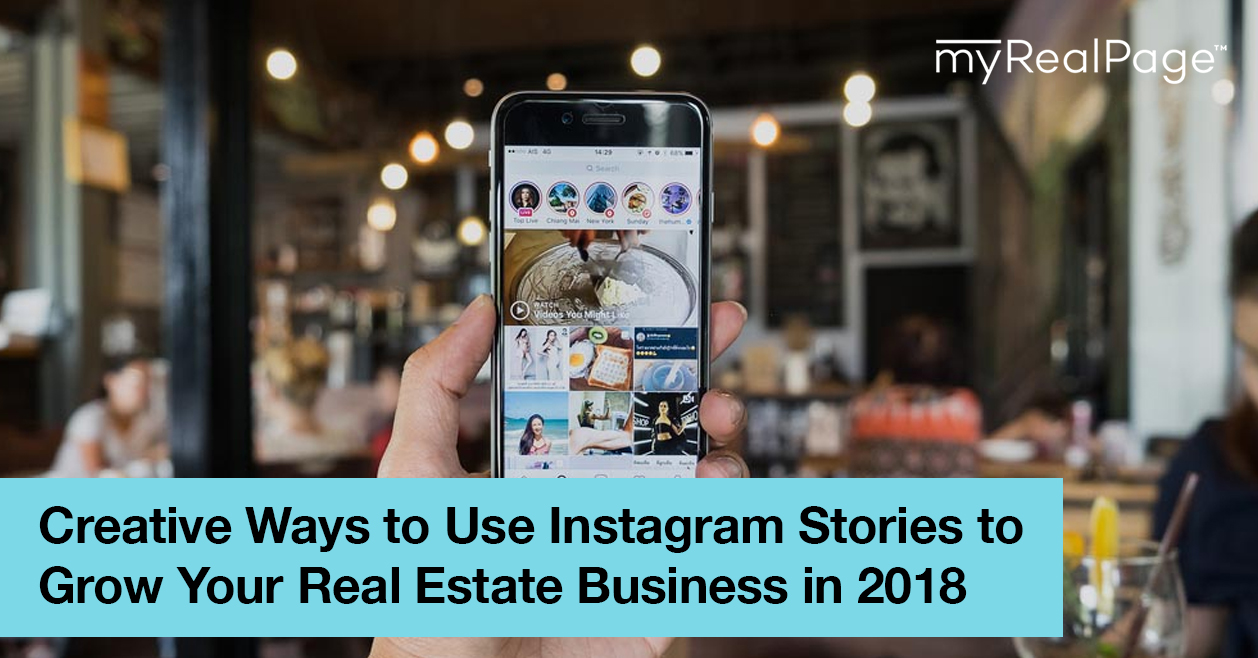 Instagram Stories have come a looong way since we first wrote about them in 2016.
It being a new platform (within a platform) and all, our advice back then was simpler.
Use a catchphrase! Try hashtags? Add more than one photo or video!
Flash forward to 2018.
Instagram Stories have come a long, long way. In November of 2017, Facebook CEO Mark Zuckerberg (Facebook acquired Instagram back in 2012) told the world that Instagram Stories had hit 300 million daily active users.
300 million.
The audience has grown, the platform has evolved, and the strategies for using Instagram Stories for business success have changed.
Here are the best, most creative ways to use Instagram Stories to grow your real estate business in 2018.
Go Behind the Scenes
For whatever reason, Instagram Stories feels like a more intimate platform. Perhaps because the content lasts just for 24 hours, or because it's so casual (no fancy editing options here).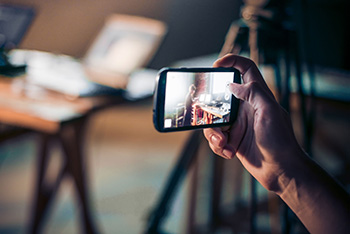 Even A-list celebrities are using Stories to connect with fans on a new level; the likes of Mandy Moore and Kate Hudson have uploaded clips of themselves doing everything from cooking dinner to hanging out at their Golden Globes table.
It doesn't matter that you've got 300 followers and not 3 million; using Stories to show your followers the behind-the-scenes of your real estate business is an excellent strategy.
You may be using Instagram for business, but candid, vlog-like Stories gives your presence a more genuine feel and shows off the real you — much better for connecting with your audience.
Here are some ideas for behind-the-scenes content to get you started:
Next time you're having a great meal in a neighbourhood you're targeting, upload a photo or video and give the restaurant some love (make sure to tag their handle in the post – it will send them a notification in their

DMs

)

When you catch your kids doing something particularly funny, start filming. Family life is relatable!

Your brain comes up with a brilliant analogy that relates to selling or buying. Film a quick 15-second video (or multiple clips) to explain it, and share it in your Stories

Completely stopped in traffic with your clients? Film a funny, off-the-cuff interview

Film yourself as you run around doing last-minute open house prep
Be Interactive
The Instagram algorithm can make it difficult for users to get their posts seen organically. Because of that, engagement can really take a hit.
Instagram Stories can help fill that gap in two ways:
Even if your Story isn't the first one a user sees, the highly browsable nature of Stories (once you're looking at one, all you have to do is tap to get to the next) means that they're one tap away from yours at any moment.

Instagram Stories has functions that make it simple to create opportunities for interaction.
The first such function is the Poll tool.
You can create a two-option poll by clicking the Sticker button (that square box with a smiley face) once you've finished taking your picture or video. From there, click the Poll button, create your question and answers, and add it to your Story.
If you use Instagram already, you've probably seen the poll feature in action. Users viewing your Story simply have to tap their answer, and the voting results will be revealed.
Here are a few examples of how you could use the Poll tool to connect with followers:

For a personal touch.

What colour should we paint the front door? Black/Red

For feedback.

What info should I share in my next Live Q&A? Buying/Selling

For research.

Would you be interested in one-on-one home consultations over Skype? Yes/No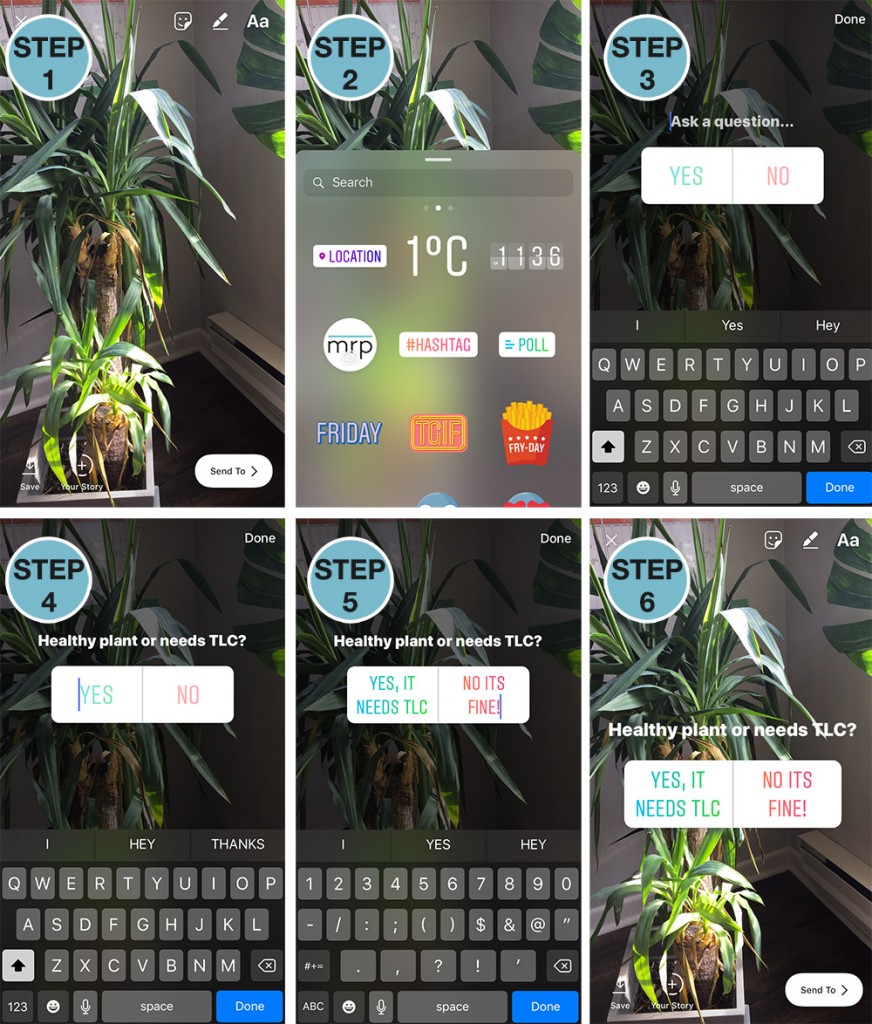 Your followers can reply directly and privately to your Stories as well, making it a great way to solicit more extensive feedback and questions. You can create a Story video where you ask your viewers to respond to your request for feedback, or using the Text feature, add a text overlay to your photo or video.
Create Highlights
One of Instagram Stories' latest features is the Highlights tool.
It gives you the ability to make your Stories viewable for longer than 24 hours, and feature them directly on your profile. Your Highlights will appear as their own round icons on your profile, beneath your name and bio text.
By extending the life of your Stories and giving them prominence on your profile, Highlights offer a totally new way to utilize Instagram. Using Highlights, you can:

Promote a contest you're running

Feature new listings each week

Call attention to your latest blog post

Collect several different stories and organize them by theme (create a Highlight for listings, a Highlight for advice, and a Highlight for news, for example)
To use the Highlights feature, you'll need to have the "Save to Archive" feature turned on. Go to Settings, then to Story Settings. Make sure "Save to Archive" is highlighted blue. Once it is, you'll be able to add live and archived Stories to your Highlights. Just tap the "+ New" button on your profile.
Add custom fonts and images
If we had to voice one complaint about Instagram Stories, it would be the lack of tools for adding a customized look and feel.
The font is standard, there aren't options for borders, and you can't animate your elements. The odds of these tools launching in the future are pretty high, but as of now, we're limited.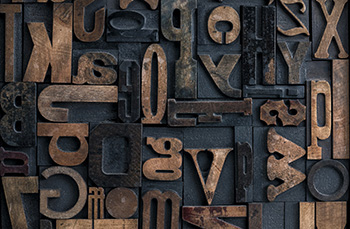 But maybe you've noticed some users, like bloggers and other businesses, posting Stories that look completely personalized and professional. How are they getting those beautiful fonts, backdrops, and other custom touches?
The secret lies in third-party tools.
That's right, you don't have to create your image or video directly in the Stories tool. You (or your assistant) can create it in advance, save it to your phone's camera roll when you need it, and then upload it to Stories.
These are the tools that savvy 'grammers are using to jazz up their Instagram Story content.
Typorama.

This iPhone and iPad app offers customized crop options for Instagram Stories (and other platforms) so you never have to worry that your photo will be too small or too large when you select it from your camera roll. Using Typorama, you can apply your own custom watermark and add filters, overlays, and all kinds of customized text. Android users can try

TextArt

.
Hype Type

. Hype Type lets you add animated text to photos and videos, including Boomerangs. It's available for iOS devices.
In Cut.

For editing video, In Cut is your best friend. Adjust the speed, add emojis, text and voice overs, and combine separate clips. It's also available for

Android devices

.
Are you using Instagram Stories for your real estate business? What kind of results are you seeing?