Top Stock Photography Sites for Your Real Estate Social Media Channels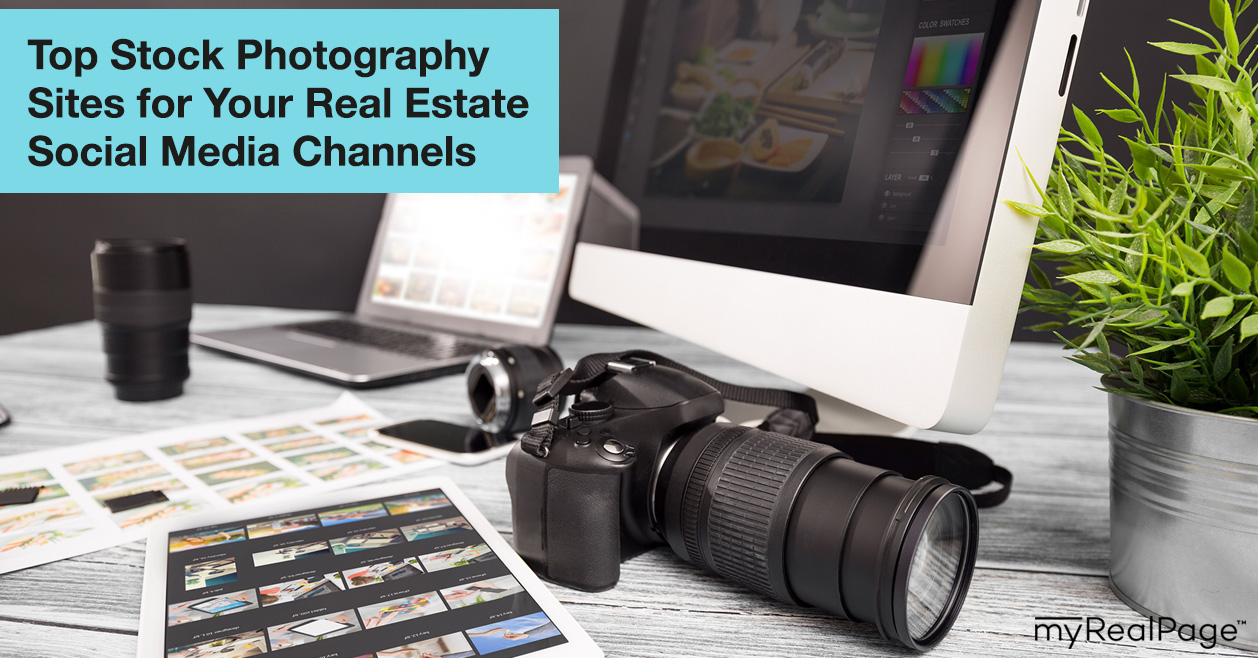 Social media content without images is like pizza without cheese.
Edible? Sure. So delicious that everyone wants a slice? Definitely not.
Consider this:
Tweets with images receive 150% more retweets and 89% more favourites (

Source

)

Facebook posts with images receive 2.3 times more engagement than posts without images (

Source

)

People retain 80% of what they see and 20% of what they read (

Source

)
In summary, your real estate social media content needs images if you want to maximize views, impact and results.
You might be thinking: "But finding photos is so hard!" or "I'm not a graphic designer!"
No problem. There are so many free online resources that REALTOR®s can use to find the perfect images for their social media channels like Twitter, Facebook, Instagram, LinkedIn and Pinterest.
In this post, we'll introduce you to our favourite websites for free stock photography and other images, as well as sharing what makes them great and what they're best suited for.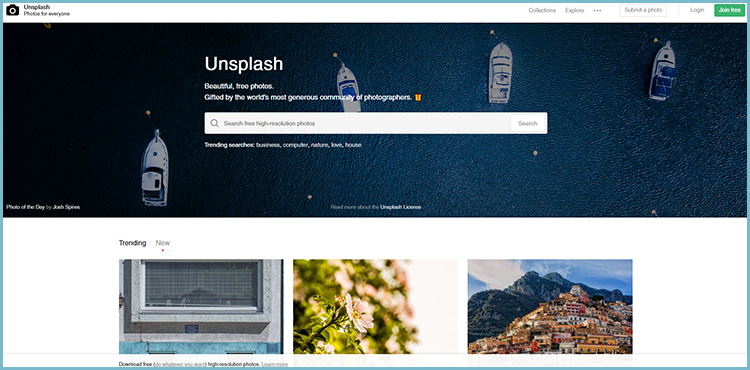 The Unsplash library has over 500,000 images provided by more than 70,000 contributing photographers from around the world. It's one of the largest collections available and every image is free to use (attribution appreciated, but not required).
Why you should use it:
Diversity.

Unsplash has images of

everything

— people, food, tech, graffiti, architecture, travel, animals, and so on.

Simplicity.

The site is really easy to navigate; simply use the search bar to find tagged images or peruse assembled collections on the Explore page. 

Attribution not required.

Though it's nice to provide a credit, Unsplash doesn't force you to. 

Aesthetics.

Unsplash images feel contemporary and far from stock-like.
What you should use it for:
The images found on Unsplash work perfectly for any of your social media channels. Flatlays and cool-looking graffiti and signage are trendy for Instagram use. For your other channels, there's an Unsplash image to suit nearly every need, but we recommend staying away from anything too avant-garde.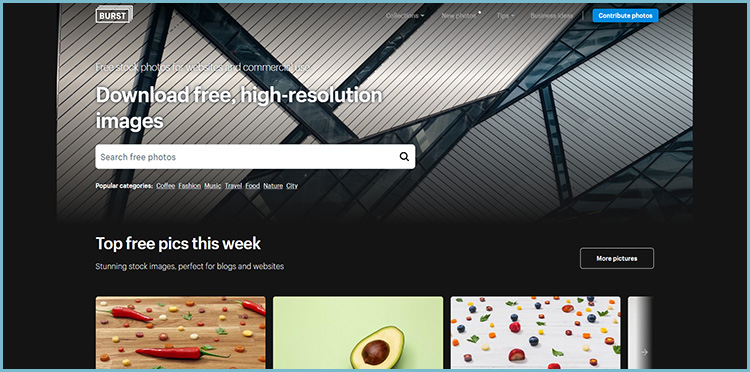 The eCommerce platform has assembled its own collection of royalty-free stock images that anyone is free to use after a quick and painless registration process. New images are added each week and are sorted into diverse and handy collections.
Why you should use it:
Simplicity.

Collections are available directly from the homepage, and there's one to suit nearly every need, so you don't have to search endlessly. The collection is large, but not overwhelmingly so; you won't waste hours sorting.

Attribution not required.

Like Unsplash, Burst notes that credit is appreciated, but not required.

Youthful.

Burst images tend to feature young people from a variety of backgrounds, making it an excellent source for when you want to target a younger audience.

What you should use it for:
Any and every platform. Some images do feel a little simple or stock-like so if you're sourcing images for Instagram and Pinterest, look for more striking photos that offer a creative "wow" factor — a necessity for platforms that are more visual.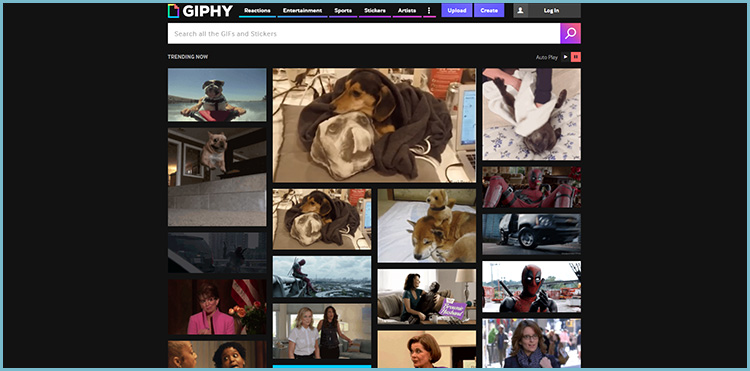 Giphy is the leading database for free GIFs. Over 200 million users are on the site every day.
Why you should use it: 
Variety.

Giphy has a GIF to suit every need. If you're looking for something to suit a particular mood or situation, or for a GIF featuring a particular actor, movie or television show, you're going to find it on Giphy.

Convenience.

The site has a search feature and plenty of mini libraries, so finding what you need is a breeze. They've also made it dead simple to download and share GIFs from the site.  

Attribution not required.

Some GIFs will have watermarks that can't be removed, but plenty don't, and no credit is required.

DIY. Want to make your own GIF? Giphy offers a tool that helps you do that. Just upload your own image or video content, and Giphy will guide you through the rest.
What you should use it for:
Facebook, Twitter and LinkedIn articles, to add a dose of humour or to cleverly illustrate your point.
To use on Facebook: Copy the GIF link, and paste it in your status update. If you plan on sharing another URL in the same post, you'll need to paste the GIF link first in order for it to appear.
To use on Twitter: Twitter has a built-in GIF feature that's powered by Giphy. Just click the GIF button when composing your tweet; from there, you can search or click a pre-assembled collection.
To use in LinkedIn articles: Copy the GIF link and paste it directly in your article. It will automatically generate the image.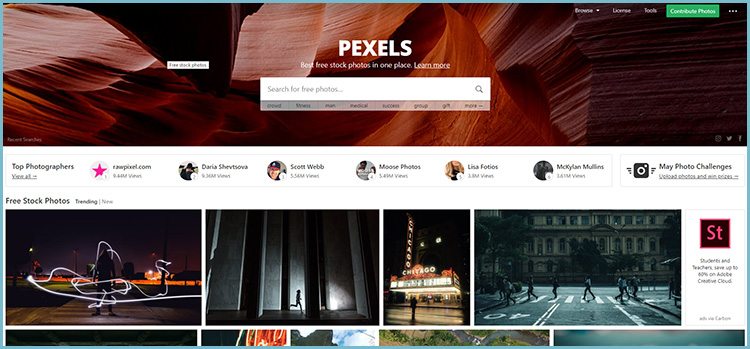 In addition to its own community of photographers, Pexels sources images from other free stock photo websites. Its collection features more than 40,000 images, with upwards of 3,000 added each month.
Why you should use it: 
Variety.

Animals, tech, travel, food, modelling, landscapes, flatlays and so on. Pexels has it all, and in a variety of styles, ranging from creative to classic stock photography.

Attribution not required.

Every picture is royalty-free and requires no credit.

Suggestions. Pexels will also show you paid stock photography options that best meet your needs. So if you can't find a particular image and feel stuck, you'll have a paid image at your fingertips, should you really need it.
What you should use it for:
Anything and everything. The subject matter and aesthetics are diverse enough that there's an image to suit every topic and every platform.
Just remember to pick the right image for the right platform; anything that looks too much like stock photography isn't likely to perform well on Instagram. To jazz up a stock image, use a photo editing tool to add text or graphics on top.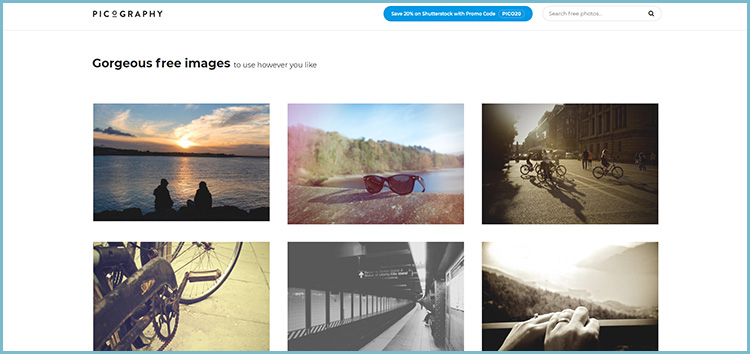 Like Pexels, Picography's library offers a range of subject matter and aesthetics. The selection is somewhat smaller, but it makes browsing less time-intensive.
Why you should use it: 
Attribution not required.

Every picture is royalty-free and requires no credit. 

Style. Many of the images on Picography have a more discernible style than other sites on this list, which can be a good or bad thing, depending on your needs. Sepia tones, unique angles and filters offer a more personal and unique touch. 
Landscapes/city scenes.

Picography's collection is heavier on images of scenery than it is on people and lifestyle.
What you should use it for:
Any and every platform. Like with Pexels, choosing the right image will be important, as some Picography images do look more like traditional stock photos. Photo editing apps can come in handy for adding text overlays — a great idea when using an image to promote a blog post, highlight a certain statistic or quote, or share news.
Are there any other stock photography sites that you use? Share your sources in the comments!