Easy Tools and Apps to Turn your Written Words into Engaging Videos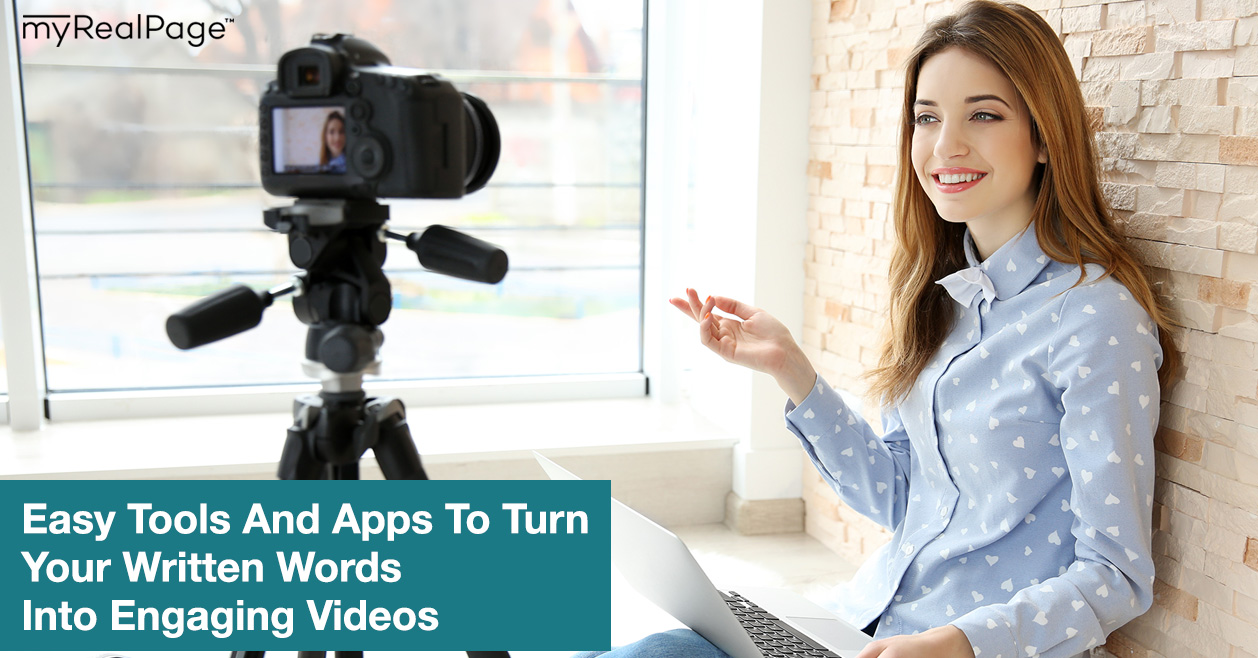 Hi, reader! This blog post is all about how to turn your blogs and written content into exciting and FUN videos.
"Why would I ever want to do that?" you may wonder.
Well, welcome to 2017 — where video is everywhere, and attention spans are shorter than ever.
"If it's 2017, shouldn't we be making virtual reality experiences, or 360-degree panoramas, or holographs, or something?" you may interject.
No, we're not that advanced yet, but we'll get there eventually.
"Ok, well what if I don't have a videographer on board, or don't know my way around fancy video software?" you may think.
Keep reading then, because this article is all about affordable and easy tools that you can use to turn your existing written content into engaging videos.
Whether this is for your real estate business, your personal brand, or for your company's new intern to figure out, here are the top tools and apps to turn your words into captivating (and shareable) videos.
Animoto
Animoto is an easy-to-use platform that can quickly produce square and landscape videos.
Simply select your music or mood, and place your video clips and photos right inside. It's even easier to use than Windows Movie maker, and you can add your own logo and branding to give it a professional polish.
Customize it with your own text, transitions – and boom! You have something perfect for social sharing.
When to use Animoto:
This option is great if you already have some of the assets (a.k.a., photos or videos) that you want to use. For example: you could make a video for a specific listing, create a neighbourhood guide, or make timed photo slideshows – perfect for digital open houses.
Lumen5
Don't have your own footage? Lumen5 turns your blog post links into snappy videos with the help of some A.I. (artificial intelligence). 
All you need to do is insert your blog post's URL, and the program will automatically generate a storyboard for your video. It compiles relevant photos and video footage for you to choose from. You select the ones that best match your content (or upload your own), add on a title and an ending, and your news article or blog post has transformed into a video. Futuristic, eh?
When to use Lumen5:
This option is best if you have written content and no assets of your own (photos or videos) to promote. Use this option if you have nothing to start with but a well-written article!
Ripl
Ripl is an app that helps you make simple animated videos while on-the-go.
The free account gives you up to eight different designs to choose from. With simple animations and stylish transitions, this app helps to boost your creativity, and make your social media marketing campaigns a breeze.
There's even a special setting to make square videos; perfect for Instagram updates, and Twitter or Facebook marketing.
When to use Ripl:
Use this option if you're on mobile (since it's an app), and if you're posting video content somewhat frequently while on-the-go. If you exhaust the free design options, you can upgrade to a paid account for more templates.  
Promo
Need a video made in a jiffy? Try out Promo. It uses stock video footage and photos to clip together a unique story for your content. It works the same way ShutterStock or Getty Images works, but for video.
You choose the videos and assets you like, and then combine them with your written content and branding.
When to use Promo:
This option is ideal for promotional videos on social media that are more generic and have a broad call-to-action. You'll get to write the script, but the library of Promo's videos and photos will do the talking.
Fiverr
So maybe you don't have videography or animation chops, or don't want to bother trying to do it all yourself. Chances are, someone on Fiverr can do it all for you.
Search the video and animation section to find an affordable freelancer to work with. The best part? The job can start for as little as just five dollars. Be sure to check out reviews and portfolios first before you sign up with someone.
When to use Fiverr:
This service is perfect for when you're looking to hire an experienced video editor or animator to make custom, branded content for your real estate brand.
With tools this simple, you can turn your existing written content into engaging videos in a pinch. Now, if only you could get over your writer's block…