The Four Essential Videos for Realtors to Have on Their Website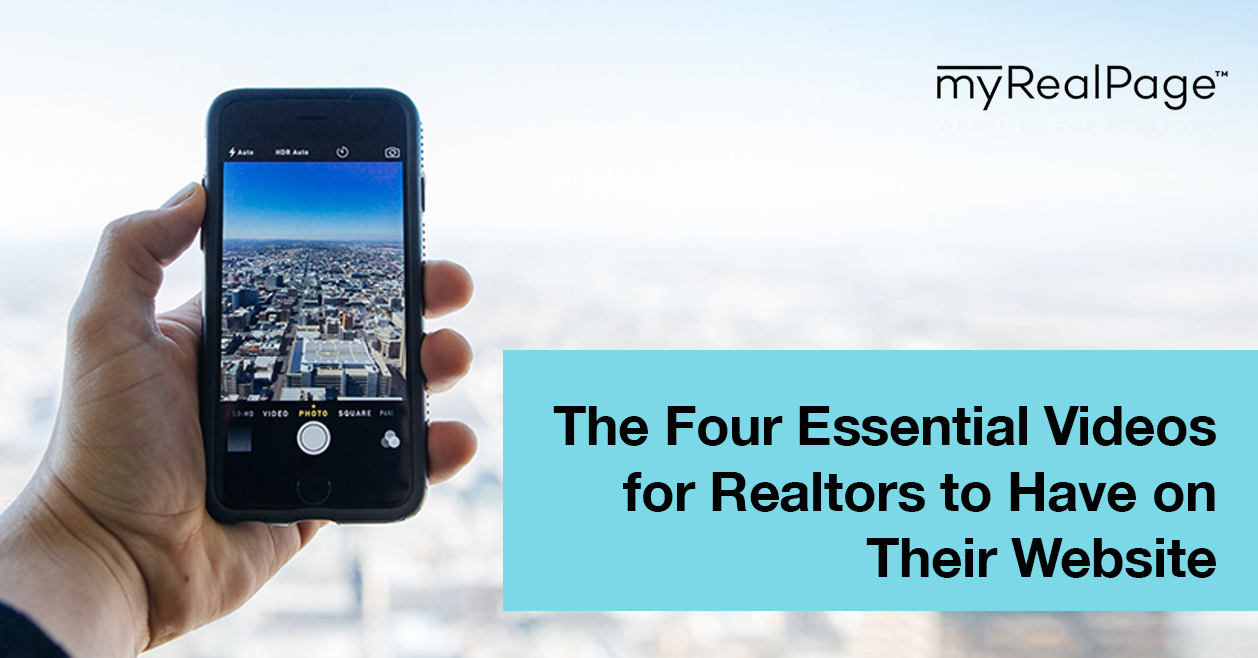 We love video marketing for realtors.
Video marketing diversifies your strategy, and when done right, boosts clicks and leads to conversions.
And to do it right, you need to have specific kinds of videos in your arsenal.
We've outlined what we think are four essential videos for realtors, and how you can go about creating them.
1. The "All About Me" video
This video is your opportunity to introduce yourself in the most engaging way possible online.
It's a chance to make a strong first impression without so much as a phone call.
Short and sweet, this video should cover your name and the areas you serve, but also your values as a realtor and what unique skills or expertise you bring to the table.
This is evergreen content that will serve you in all kinds of ways; it can be permanently posted on your website, pinned to the top of your Facebook and Twitter pages, included in newsletters, and featured as the default video on your YouTube page.
Tip: keep it laidback, and avoid making a scripted sales pitch. Rehearse the main points you want to cover, but don't memorize a script word-for-word.
How to make it: your production approach depends on what kind of vibe you want to create. If you're targeting high-end clientele, consider hiring a professional who can deliver a slick product; otherwise, a well-lit DIY video with good audio will do the trick.
2. The "Client Experience" video
This kind of video is a great way to provide testimonials for your services while still offering your viewers interesting content.
Instead of filming your past clients as they lavish you with compliments, film them discussing their experience buying or selling their home. They can provide an insider's look at the current market and offer advice, while working in testimonials of your great services.
Tip: find the nugget of information that makes your client's story interesting. For example: if, with your help, your client won a 14-person bidding war, make that the focus of the video (also use it to write a must-click title).
How to make it: film your clients interview-style, seated on a couch and directing their answers to someone off-camera. Or, create a webcam-style video for improved authenticity. Ask your clients to speak to your recording webcam, but add a microphone and extra lighting for better quality.
3. The "Must-See Listing" Video
Ideally, you'd be creating a video for every new listing you receive. But, assuming you're a busy agent, that level of video production requires major time and effort.
We recommend a two-prong approach to listing videos.
For your average, everyday listings, use live video tools like Facebook Live and Instagram Stories to offer a walk-through or live stream from an open house.
For luxury listings, hire a professional to create a promo video with a major "wow" factor. This tends to be a worthy investment that can net more prospective buyers.
Tip: to avoid a video that plays on too long, leave the less visual information to the description or full listing.
How to make it: you can easily produce live videos yourself; just ensure that your framing, lighting and audio are good. Use the pros for the luxury listing video tour.
4. The "Tips and Tricks" Video
Turn your blog posts on real estate, the neighbourhood, and decorating advice into short videos.
How-to or educational content, especially when tapping into a timely issue or event, can help you reach new audiences and enhance your brand as a trusted, in-the-know realtor.
Tip: add on-screen description so that viewers can watch even when they're unable to turn the volume up (this is essential if you're uploading the video to your Facebook page).
How to make it: the more authentic this looks, the better, so shoot this one yourself. Not to send like a broken record, but make sure your lighting and sound are bright and crisp. Film yourself talking as you sit at a desk or at a kitchen island. When it comes time to edit, you can add in images, charts and graphics.