Real Estate Agents – Why You Need to Stand Apart From the Crowd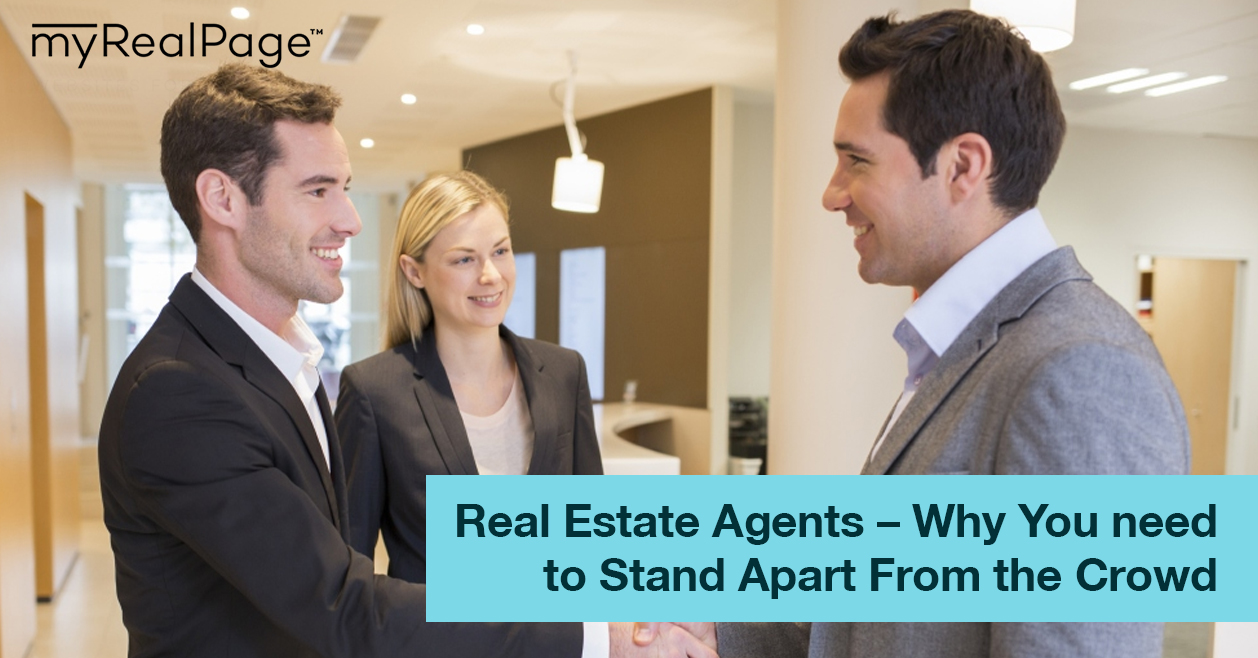 This post was updated on 09/05/2017
The real estate industry is a crowded one.
It's a customer's market. There are so many real estate agents to choose from and each of them are ultimately promising the same things: a quick sale, a dream home, and good service.
Strong online marketing that pops is more important than ever.
Here's why you'll need to stand out if you plan on finding success in an increasingly crowded real estate agent market.
There Are More Than 115,000 Active Real Estate Agents in Canada
There are more real estate agents working in Canada than ever before.
And that growth will only continue. When the market gets hot, more and more people want to get a piece of the real estate pie. That means that you'll face increasing competition for clients.
No question about it: if you're going to make a career in real estate and not just sell the occasional home, you'll need a solid marketing strategy that includes multiple platforms, multiple streams for generating leads, and a unique value proposition.
The "big guns" have cornered the market
By big guns, we mean those real estate agents with plenty of money to spend on web marketing.
They've already figured out the best keywords and demographics to target. They already have the websites and Google and Facebook ads designed to convert visitors into leads at a high rate.
But the beauty of the Internet is that there's plenty of room for everyone to play. You just need to figure out a space you can own.
We think one of the most overlooked aspects of online marketing for realtors is targeting niches. You probably can't compete for the top spot with the term "Toronto real estate" in Google Adwords. But if you go smaller, you've got a great chance at success.
You could specialize in a neighbourhood of Toronto, for example. You could target the term "Cabbagetown real estate," create a landing page focused on Cabbagetown buyers and sellers and watch the leads roll in — for less money and less competition.
Millennials are the generation to target, and they want different things
The Baby Boomer generation is in or approaching retirement and Generation X is starting to reach middle age. Who's next in line? Millennials.
Most commonly defined as people born between 1980 and 2000, millennials are currently the largest living generation. That's a huge pool of people buying and selling their first homes.
Millennials are unlike any generation before them. They are incredibly tech-savvy, they spend a huge amount of time online, and they understand the power of marketing and personal branding.
To properly target the millennial market, you can't rely on what worked for Generation X and for Baby Boomers. You need to align your online marketing strategy with millennial needs and wants. If you want their business, you'll need to stand out.
Invest the time, energy and resources in creating a personalized brand for your real estate business — it will pay off.
There is no such thing as guaranteed business
With so many working agents, selective consumers, and a huge number of marketing tools and streams, the real estate business is a lot more complicated than it was 20 years ago. A guaranteed stream of clients doesn't exist and you can't count solely on referrals.
Top-producing agents don't earn that distinction by sitting around and wondering how they will find their next buyer or seller. They're hustlers and aggressive marketers who know how to spend their budgets in order to maximize their return-on-investment.
Not that they don't make mistakes. They do. But they figure out where they went wrong and they adjust accordingly. And once they capture a lead, they maintain that relationship and hang on until the person either buys, sells, or moves out of the area.
In short, top producers have a winning mentality and it's that mentality that helps real estate agents stand out from the rest. To keep up, you'll need an online marketing strategy that's flexible and forward-thinking.
Now that you've read up on why it's important to stand, click here to find out how you can set yourself apart from the rest.
What are you doing to stand out from other agents in your market? Tell us in the comments below.