5 Reasons Why Drones Need to Be Part of Your Real Estate Marketing Plans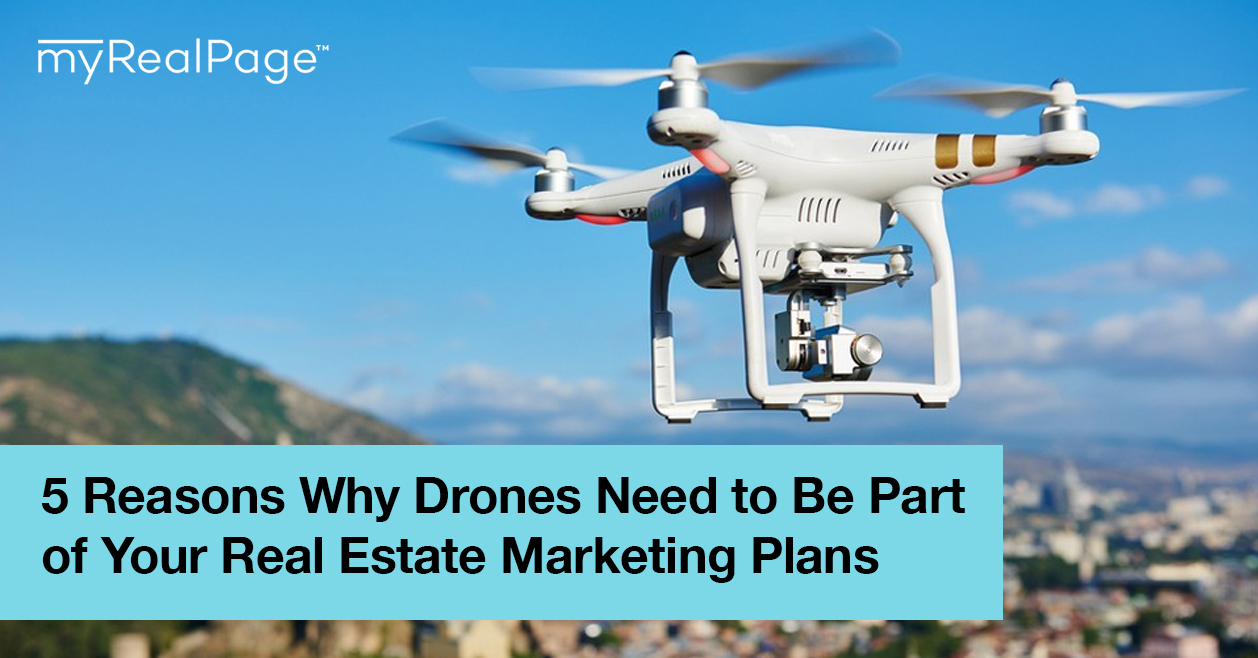 To drone or not to drone?
That's the question plenty of REALTORS® have asked themselves in the last few years, as the flying, camera-equipped thingamajigs have transitioned from a novelty tech item to a bonafide photography and videography tool.
The answer?
DRONE!
We feel pretty strongly that using drones for photo and video content can be a game-changing tool for real estate agents and their marketing efforts.
The resulting footage can be awe-inspiring and the investment can be as big or as small as you like; drones can be rented or purchased (from $300 up to $10,000), and you can hire an operator or do it yourself – with some practice.
If you're on the fence about whether you should experiment with drones, read on. We've highlighted the five key ways that drones add major value to any REALTOR®'s marketing game.
1. They differentiate your listings and give them a spark
Listings are boring. It's a real estate fact.
Some 99.9 percent (we imagine) of people go online to browse homes and properties, and there are only so many ways to make your online listings stand out from the rest.
And then there's professional drone photography and video. Nothing makes a listing jump out more than an immersive video of a property that starts in the sky and swoops down to earth, or a dramatic bird's-eye view of a property. Those kinds of shots create immediate interest that turns into mouse clicks.
That kind of imagery used to be available only to the top one percent of agents who could afford an investment in helicopter photography for their extra luxe properties. Drones are making the same results more accessible for a variety of agents and a variety of homes.
2. They capture huge, luxurious, and hard-to-explore properties
The best still photography in the world can't do unique properties justice.
Luxury homes, huge acreages and amazing vistas often have to be seen in person for their value to truly be understood and even then, it can often be difficult to prove to prospective buyers.
Aerial photography with drones is solving that problem.
Imagine a fly-around video of a cottage situated on its own island. Or of a multi-million-dollar home, where the tour starts at the majestic front gates. Or crystal-clear aerial shots of a large-scale farm, where all of its buildings and land are in perfect view.
These aerial shots offer a kind of immersive experience that standard, on-the-ground footage just can't compete with.
3. They offer more realistic home tours
Many people think that drone photography is just for outdoor use. Not true.
Used indoors, drones offer next-level home walk-throughs for you to add to a listing and share on social media.
Drone tours are superior to a series of still shots or a shaky video taken with a handheld camera because of the realistic experience they give viewers.
Flying from room to room provides a much more accurate sense of a home's layout and the size and scale of its features.
Music, voiceovers and text overlay can be added to the footage to provide context and background, making these kinds of tours a beautiful and ultra-informative experience.
4. They show off landscapes and neighbourhoods
What if the best selling feature of a home is actually the neighbourhood it's in, or the landscaping, or natural features of the property it's on?
Don't just tell prospective buyers about these features — show them!
Using drone video, you could show a viewer the proximity of a home to schools, parks, transportation and shopping. Or you could take them up close to backyard pools and outdoor kitchens, or to see the view from a balcony or patio.
5. They're good for your brand
Drone photography and videography is hugely beneficial for your real estate business, for two key reasons:
It makes your listings so much more interesting and attractive. Better listings = more clicks and views = more prospective buyers = happy clients

Using drones to create immersive tours and photos shows current and prospective clients that you're up on the newest technologies, that you're innovative, and that you go the extra mile to get results
Have you considered investing in drone content for your real estate business?