The Best Last-Minute Gifts for Real Estate Clients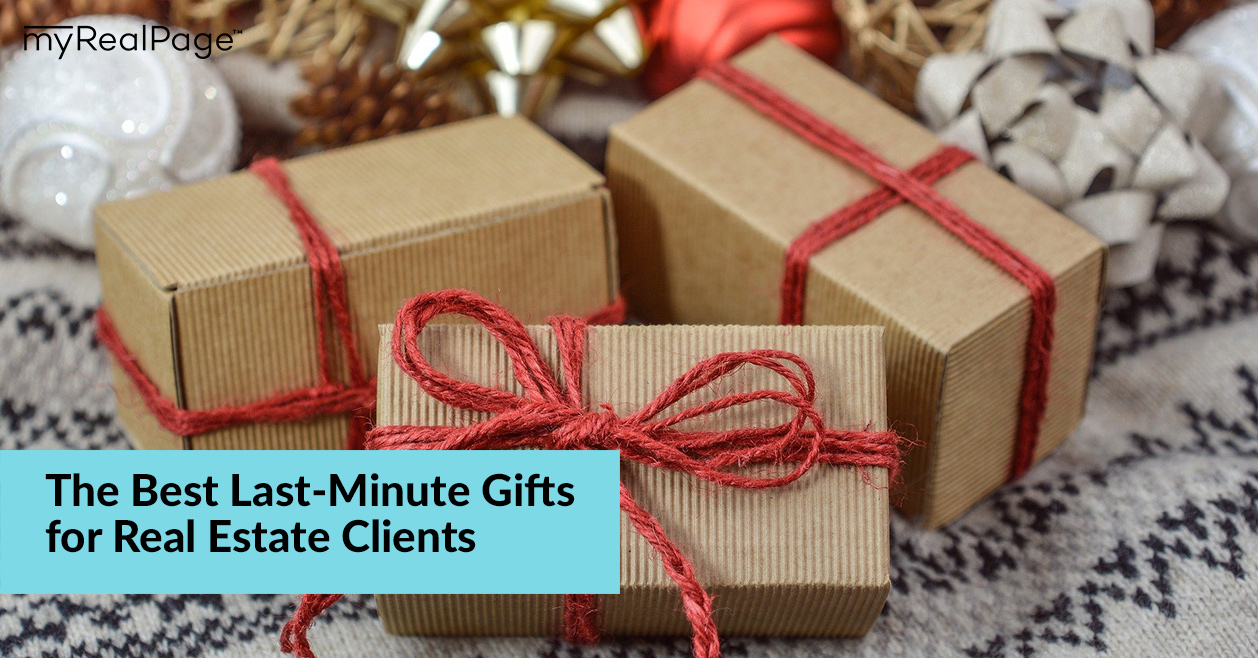 It happens every year.
The holidays feel miles away. It feels like there's plenty of time to get it all done — plan the final open houses, attend the parties and, very importantly, shop for client presents.
And then boom. The holiday season is, somehow, already here. And it feels like there's not enough time for work, let alone picking out holiday gifts for real estate clients. 
Welcome to last-minute gift shopping. 
If you find yourself in this boat, there's good news: the gifts don't have to feel last-minute.
We've rounded up last-minute gift ideas for real estate clients that are easy to buy and still show that you're thoughtful, generous and caring.
A Selection of Local Goods
Supporting local business has become more important than ever in the last couple of years. 
Putting together a gift bag of items from a few different businesses in your community is a great way to show your support while also showing your clients that you made the effort to shop small.
Try to seek out items from new businesses, or businesses that are generating buzz; this signals to your clients that you've got your finger on the pulse of what's going on in your city or neighbourhood.
Need some inspiration? Food items (interesting hot sauce, house-made jam, top-notch olive oil) and homewares (ceramic mugs, taper candles, dried floral arrangements) tend to go over well.
A Gift for Their Pet
If your client has a pet, then you've got a great last-minute gift idea for your real estate client.
A little something for Fido or Fluffy is an easy win, doesn't break the bank and tells your client that you were thinking especially of them.
Think gourmet dog treats from an independent pet store. A funny toy. A treat dispenser. A leather leash. Or a WiFi-connected camera (for capturing a pet's antics when they're home alone). 
A Home Cleaning Service
Is a pre-paid home cleaning service boring? Maybe. 
Will your real estate clients love it? Absolutely.
This is a low-hanging fruit kind of gift that also happens to be win-win. It's on-theme for a real estate agent, it's incredibly easy to buy, it supports a local business and it makes life a little bit easier for your client. 
You can also tailor this gift to your particular budget: gift one service or gift a bundle. 
A DIY Kit
Don't worry: the DIY is for your clients, not for you.
A DIY Kit is a basket of goodies that your client can use to make something. This gift is simple to assemble once you've decided on your theme. 
Speaking of theme, unless you know your client likes arts and crafts, it's best to stick to something consumable. 
It could be a DIY caesar kit, with vodka, a craft caesar mix, fancy rimmer and pickled beans. Or a DIY waffle-making kit, with a mini waffle iron, waffle mix, maple syrup and a few fun toppings.
A Charitable Donation in Their Name
These days, many people are trying to be more conscious about how much "stuff" they accumulate. While giving your clients a physical gift is a generous and caring gesture, there's always a chance it could end up in a pile for donation or regifting.
Consider "gifting" your clients a charitable donation this year. You can look for organizations whose causes are particularly relevant or timely at the moment, or one that you have a connection to or history with. If you know of a cause that your client already has a connection to or that might be close to their hearts, bonus. 
Be sure to make the donation in their name. You can explain the gift in a handwritten card and, if you want to throw in something just for them, pair it with a nice bottle of wine or flowers.
What's your go-to holiday gift for your real estate clients?