2017 Real Estate Trends That Will Affect Your Marketing Game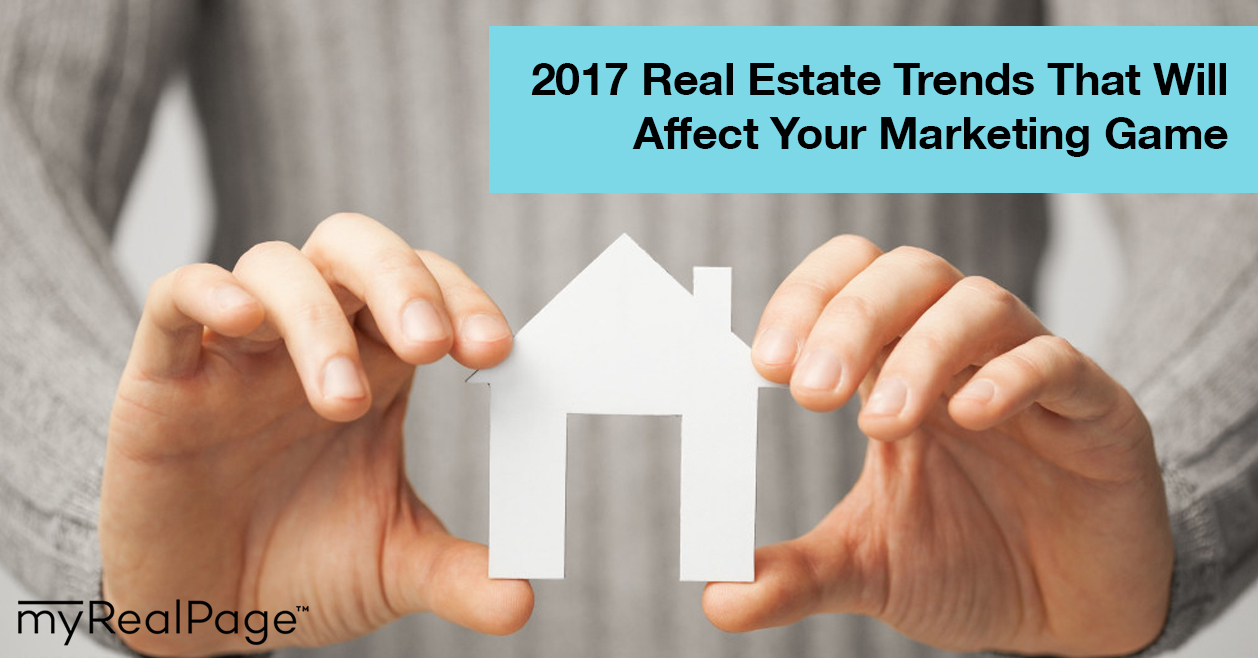 A good realtor never rests on his or her laurels. The marketing techniques that worked for you in the past might not be so effective now. Keeping up with real estate trends, changes and innovations is key to cultivating leads and winning business.
Take note of these seven real estate and marketing trends for 2017 that can jump-start your own business this year.
1. The housing market is in flux
One new lending rule has made it harder for many Canadian buyers to access financing, while other rules, in western Canada and in Ontario, are trying to help first-time buyers get into the market. In parts of British Columbia, the high prices of 2016 have many experts predicting a huge drop in 2017.
The market feels chaotic, and your strategies need to accommodate for that. You need to have a deep understanding of the trends and forecasts, and be able to translate that into sound advice for your clients.
Your job in 2017, more than ever, will be to hold the hands of your clients.
2. Live video is hot
Both Instagram and Facebook launched live video publishing tools in 2016, giving realtors a whole new way to market themselves. You could live stream a home tour, host a Q&A, or host a weekly rundown of new listings.
It's too early to speak to whether engagement on live videos is much higher than other content but, while the feature is still new and shiny, it's important to experiment. The novelty aspect alone attracts clicks and trying a new tool can contribute to your reputation as a leading-edge real estate agent.
3. Storytelling is still hugely important
Whether you know it or not, storytelling is a huge function of your job. It happens when you describe a home in marketing materials, when you convince a buyer that a property is a good fit, and when you sell yourself and your expertise. It takes place in-person, online and in print.
In 2017, it's time to perfect the craft of storytelling.
Use high-quality images to visually tell a story.

Remember that less is always more when it comes to word count — especially online.

Customize your story to your audience.
4. The Internet of Things will dominate the home
Trend forecasters are betting that smart home technology will surge in popularity in 2017.
The Internet of Things and interconnected smart devices will be used more than ever before to control lighting, heat and cooling, entertainment and security.
Buyers will be on the lookout for these features in a prospective home, and they'll want to know what the possibilities are. To be at the top of your game, you'll need to be well-versed in new products, trends and opportunities in home technology in 2017.
5. It's time to get personal
In 2017, you can't afford not to have a personal brand.
In a day and age of fierce realtor competition, it's key to know what makes you unique and how to use that to market yourself. If you feel confident in your unique value proposition, continue to focus your marketing efforts on strengthening and sharing that message. If you feel like your strategy is lacking that tailored approach, then start with our quick-and-dirty tips for standing out.
6. Millennials want in
First-time, millennial home buyers desperately want to get in the housing market, but skyrocketing prices have made it more difficult than ever.
Taking into consideration their struggles, but also the new measures in place to help them, consider making it your mission to help this segment of home buyers with a customized approach.
With so many young buyers entering prime first-home-buying time, the reward could be huge.
7. Renew your social media efforts
Don't continue to rely on the same social media strategies from 2015 and 2016. The social media landscape is ever-changing, and you need to freshen your approach to be relevant.
If you're not already, you need to be producing Instagram stories (psst: here's our guide to using them). These temporary images and video clips offer an opportunity for candid, approachable content that enhances your brand in a personal way and keeps you front-of-mind.
Other ways to strengthen your social media strategy: promote your posts to a targeted audience on Facebook and Twitter, produce video content, and experiment with Snapchat – including producing your own geofilter.