3 Tips for Giving Strategic Closing Gifts to Your Buyers and Sellers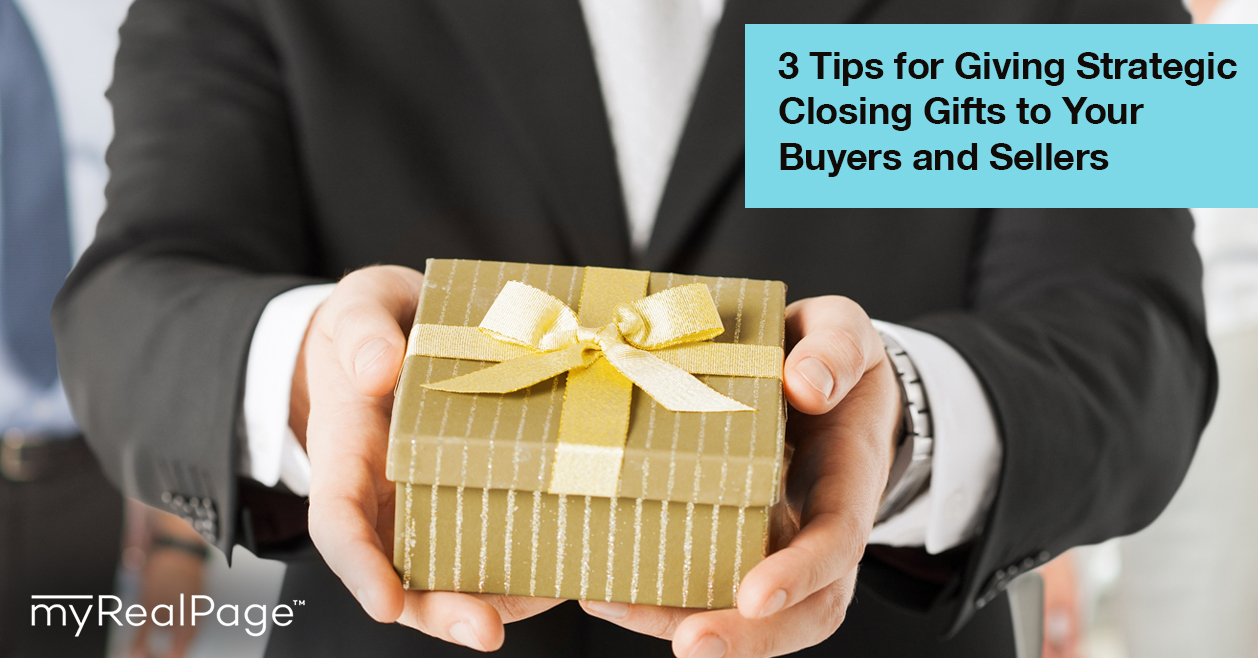 Bottles of wine. Restaurant gift certificates. Fruit "bouquets." An engraved pen with your name, website and phone number on it. For as long as realtors have been selling homes, they've been giving closing gifts to their buyers and sellers to say thanks for their business (and to increase the odds of a referral).

Gift-giving has become a routine part of the job, and it's starting to feel that way, too. The gifts mentioned above — almost all of them standard gifts that we've all given at some point — are a tad on the expected side. And as a result, somewhat forgettable.
For your client gift-giving to really mean something (and have spectacular results), you need to have a strategy. Before you dish out for another client gift, read these three tips first.
1. Spend smart
We often treat gift-giving like a checkbox to be ticked off.
"Christmas time: send a bottle of red wine to clients of the past 11 months."
Or, "Successful referral: send gift card."
And how many times do you wine-and-dine prospective clients, or those whose homes you've just sold?
Step one to giving gifts that help your business: more thought, less knee-jerk reaction.
Redirect the money you're spending so routinely towards gifts that really and truly mean something. Easing up on the wining and dining might feel counterintuitive, but we bet that your client will appreciate an amazing, thoughtful and unexpected gift more than a medium-rare steak.
2. Make it personal
A good gift, corporate or otherwise, is a gift that is perfectly suited for the recipient.
It reveals that the gift giver truly knows their recipient, and has spent the time and energy finding a unique item or experience (which can really mean more than the gift itself).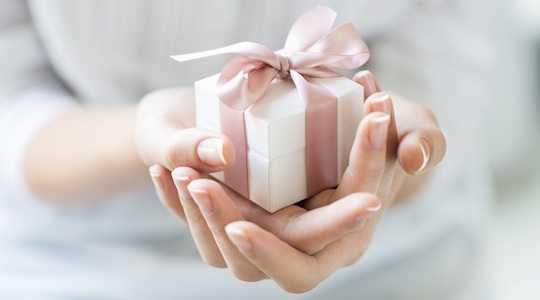 But, you don't have to know your client like an intimate friend to personalize a gift. Some tips:
Get in the habit of noting details they mention in passing conversation, like a big wedding anniversary they're celebrating, their kid's university graduation, their yearly trip to the Florida Keys, etc. These details can help you identify super thoughtful presents that will take your clients aback.

Do some online research on your client to see what you can find. A careful browse of their Facebook or Instagram profile could reveal that they're huge New England Patriots fans, that they love golden retrievers, or that they try new brunch spots every Sunday.

Put

their

name on a gift — literally. Typical corporate gifts bear the giver's name or the company name; good corporate gifts feature the recipient's name. A leather-bound notebook, for example, goes from ordinary to extraordinarily personal if your client's name is embossed on the inner cover.

Don't forget about the card. A surefire sign of a generic gift is a corporate-looking greeting card that accompanies it, with one or two hastily scrawled lines inside. Spend a little extra on a beautiful card, and take the time to write a thoughtful message. To make it easier, try

Postable

. Pick from beautifully designed cards (made from recycled materials) and type your message. Postable will print your message in an elegant handwritten font, then print, stamp and mail your card for you.
3. Be unique
Thinking outside the wine-or-gift-card-box is the hardest part of giving good client gifts.
Consider experiences, rather than items. Tickets to a sold-out concert, with transportation arranged to-and-from the venue, might hit it out of the park.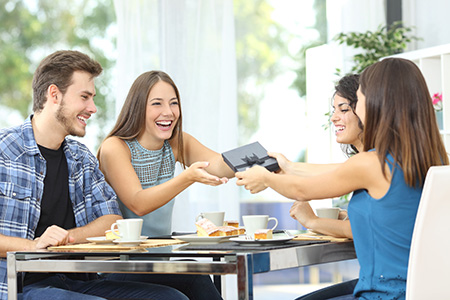 For a busy young family who just moved into a new home, what about six months' worth of cleaning services?
You could also host an event for several clients and their families, combining your budget and efforts for one, large-scale experience.
If you're in Canada, Giftagram can help you out. Available for iPhone, iPad and Android devices, Giftagram is a mobile, at-your-fingertips gift concierge. It offers a curated library of beautiful gifts, ranging from artisan food, to independently-made jewellery, to experiences, to home decor products and more – from local and national producers. Once you pick the gift you'd like to give, you can select your client's contact information from your phone, and Giftagram will go about delivering it for you, wrapped and all.
When it comes to gift-giving, if you're ever stuck for an idea… just think – what was the most surprising, unexpected gift you ever received? What were the circumstance that made it so for you, and how can you replicate that 'surprised delight' for a client or a friend? It might take some thought, but the results could be well worth it.