30 Must-Know Statistics For Real Estate Agents in 2022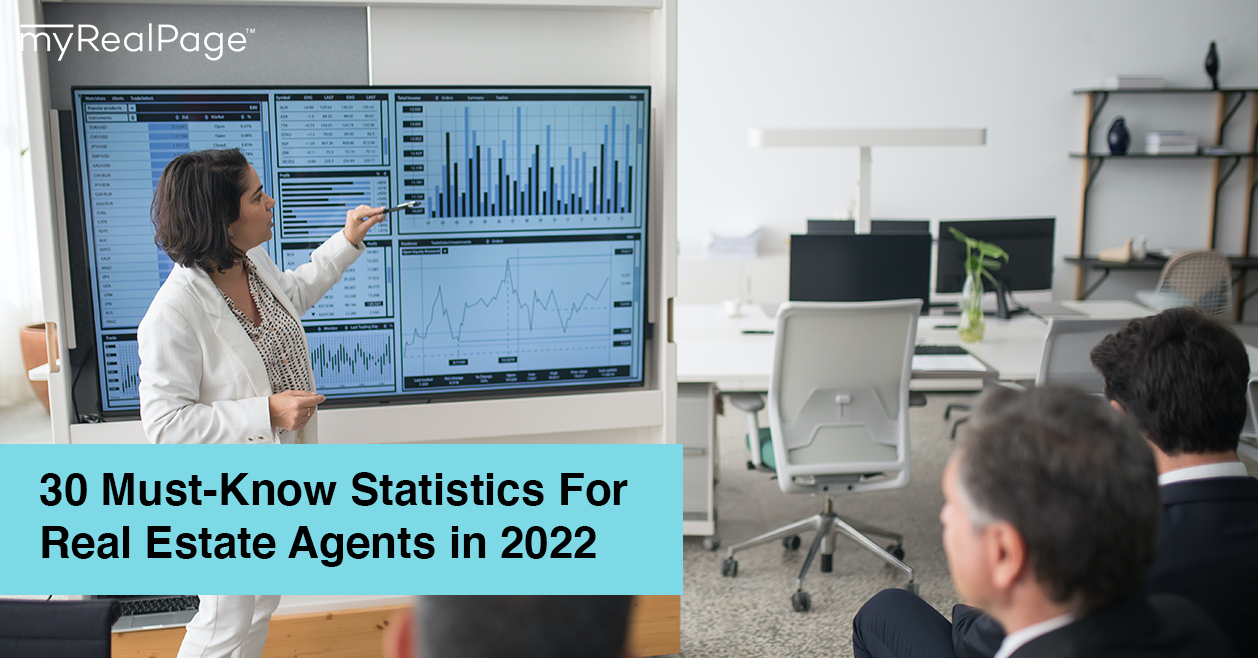 Making decisions for your real estate business based on data and insights is always a good idea.
To stand out from the competition, attract clients and maximize sales, you need a thorough understanding of the world in which you're operating — from how the market is performing to what your prospective clients are thinking and feeling to what marketing tools are going to give you your best shot. 
After all, the more you know…
To help get the juices flowing, we've put together a list of 30 statistics for real estate agents in 2022 — interesting data points and insights about the market, buyers and sellers, and, of course, marketing.
Read on!
THE MARKET
Canadian housing prices will rise 10.5% year-over-year in 2022, according to predictions from Royal LePage
97% of Canadian housing markets are expected to be sellers' markets
The median home price in Canada was $799,000 in 2021
The median home price in the U.S. was about US$353,900 in 2021
In the Greater Toronto Area, the median price of a condo is expected to increase by 12%; it's the only major market in Canada where condo price appreciation will be greater than that of detached homes
Relocation between Canadian provinces is expected to continue this year, according to 54% of RE/MAX brokers
In the U.S., housing price growth is expected to cool a bit in 2022, with prices potentially appreciating 2.8% in 2022 (down from 14.7% in 2021), according to the National Association of Realtors
Rent prices are expected to rise by an average of just over 7% in the U.S. and Canada in 2022
The Bank of Canada is expected to raise interest rates five times higher by the end of 2022
There are over 140,000 real estate brokers, agents and salespeople in Canada
BUYERS AND SELLERS
Just under 30% of Canadian first-time home buyers received financial help from family in 2021
Two-thirds of Canadian first-time buyers who receive financial help from family to buy a home say it was the primary source of their down payment
Up to 88% of Canadians aged 40 and younger feel their generation is unfortunate when it comes to the possibility of owning a home
One in five homes in Ontario are owned by investors; for newly built homes, that jumps to one in three
Over 64,000 people left Toronto for rural areas of the province; close to 40,000 Montreal residents did the same in Quebec, as did over 12,000 Vancouver residents in British Columbia
Over 40% of home mortgages in the U.S. are held by Gen X, followed by baby boomers at about 27% and millennials at about 26%
63% of Canadian baby boomers who plan to buy a primary residence in the coming years are planning to downsize
The home ownership rate in Canada is around 66.5%
About 40% of Canadian first-time home buyers are waiting to buy until house prices start to fall
Approximately 40% of homeowners in Greater Vancouver and Greater Toronto have used equity from their primary residence to purchase a secondary property
MARKETING
57% of people wouldn't recommend a business with a poorly designed mobile website
50% of consumers believe that website design is essential to a business's brand
Businesses that blog get 100% more email traffic than businesses that don't
90% of Instagram users follow at least one business profile
83% of Instagram users make use of the platform to discover new services and products
Personalized subject lines in emails increase unique open rates by 27%
Mobile traffic to YouTube accounts for more than 25% of all mobile traffic
Instagram posts that have at least one hashtag produce 12.6% more engagement than posts without hashtags
Nearly 46% of social media traffic to a company's website comes from LinkedIn
43% of people decide whether to watch a video until the end in the first 15 seconds
Sources