Demystifying Internet Marketing for Realtors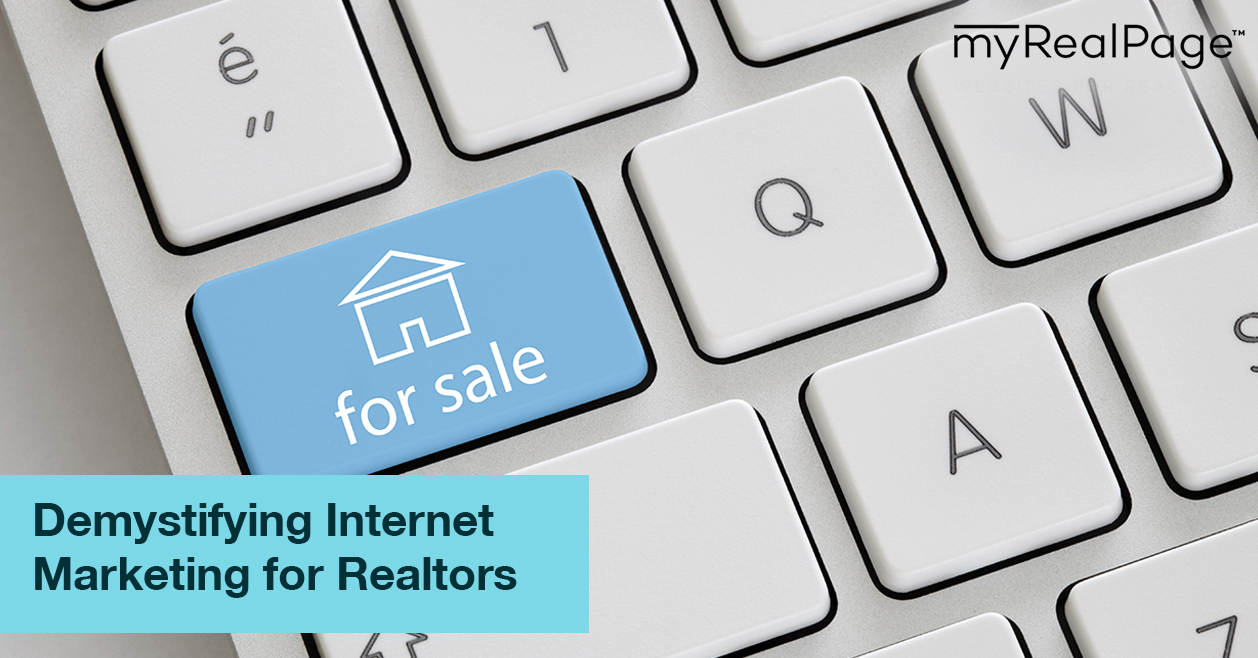 This blog post was updated on 09/02/2017.
If you're new to marketing your real estate business online, welcome! This blog post is a good place to begin.
It's hard to know where to start when it comes to the Internet and your real estate business. The vast World Wide Web throws hundreds of ideas at you — Newsletters! Blogs! Ads! Keywords! — and while they all seem pretty good, it's an overwhelming amount of information.
We want to demystify Internet marketing for you. We're going to break down online marketing for real estate agents into three steps:

Getting traffic to your website

Capturing prospects' contact information

Converting prospects into customers
Let's look at each of these steps in more detail.
Getting Traffic To Your Website 
You need Internet users to find you. That happens with search. And Google dominates the search engine market.
Translation: you need to please Google to get traffic to your website.
Google wants to give searchers the very best results — meaning, websites that have the best, most relevant information for their search term.
To become one of Google's favourite websites, you need to follow five steps:
1. Pick Your Keywords 
Keywords tell Google what your website is all about. Your goal is to find the keywords that represent you and your business, but aren't impossible to rank for (meaning that there aren't so many popular websites already using that keyword or phrase).

Keywords can be one word, but for small businesses (like local real estate businesses), it's better to go for "long-tail keywords," which are descriptive multi-word keywords that are often less competitive to rank for.
Once you've established what keywords you want to focus on, you'll be peppering them throughout your website (we'll touch on that later).

To establish what keywords could be the most effective for you, you'll need to do some research. We like using UberSuggest (it's free) to get ideas for keywords, and then turning to Google AdWords' Keyword Planner (you'll need an AdWords account) to figure out which keywords could have the best results.
2. Create Content 
Creating original blog content for your website helps you in three ways: 
It establishes you as a thought leader and gives value to your clients and prospects
It's an opportunity to use keywords to help your website rise to the top in Google search results
And it's a way of keeping your website active, which is something that Google likes to see.

3. Be Active on Some Social Media 
You don't need to be on every single social media platform (here's how to choose the ones that are best for your business), but you do need to have a strong presence on two or three. That's because social media offers you a way to build your personal brand, connect personally with clients and prospects, grow your audience, and bring traffic to your website.
4. Strive for Inbound Links 
Inbound links are links to your website from other websites.
Google likes inbound links, because they tell Google that a website trusted your website enough to link to it. It's like a small seal of approval. Plus, if enough people click on that link, your site gets a traffic boost.
But getting inbound links takes some work. To arrange for a link on someone else's site, you can:
Link to other websites, in hopes that they'll return the favour
Offer a guest post (something you write) to a website, provided they include a link back to your site in the posting
Create shareable content that people can use if they provide a link back to you (like infographics or whitepapers)
Simply ask people in your network to help you outYou need to have other websites adding a link on their website that, when clicked, takes people to your website. This is called an Inbound Link. Usually it doesn't matter if anybody ever clicks those links. Just the fact that they're there is an important indication to Google that your website is an authority in your industry and deserves higher rankings.
5. Get Technical 
There are a number of technical things that really help your rankings. If you put your target keywords in your title tag, H1 tag, alt tag and internal links, and a few times in the text on your pages, especially your homepage, it will greatly help your rankings.
You're probably asking what we mean by all this tag business. This pertains to your website's code — all the backend stuff.
It seems pretty complicated until you're familiar with it. We like the easy-to-follow explanation on the Kissmetrics blog, but if you're still confused, ask a web-savvy friend to lend a hand. It only takes a few minutes to make these changes.
We've covered the SEO do's, but be aware of these SEO don'ts, which could negatively impact your results.– There are a number of technical things that really help your rankings. If you put your target keywords in your Title Tag, in your H1 Tag, Alt tag, in internal links, and a few times in the text on your pages, especially your homepage, it will greatly help your rankings. Google looks in those places to see what your website is about. It also helps to have your blog right on your website, and not to use frames or to split your website into subdomains. With larger websites it can help to use Metadata, and have an XML sitemap.
Capturing Your Prospects' Contact Information 
Capturing your prospective clients' contact information is essential. You need to communicate with them in order to convert them into a lead. But not everyone will arrive at your website and leave their email address without being convinced to.
This is where "lead magnets" come in. A lead magnet is a kind of trade: your prospect gives you their contact information (and permission to be contacted), and you give them something they want in return. 
In some industries, a lead magnet could be a free sample or a free estimate. In real estate, the most common lead magnets are valuable information — a housing market report, for example.
Click here for five of our suggestions for successful lead magnets.
Converting Prospects Into Customers 
So your Internet marketing strategy has succeeded in creating leads. Now what?

You need to win them over!

This is where your efforts take multiple forms, all working together to help nurture your prospects into clients.
Whether you're a beginner or novice online marketer, the myRealPage blog is here to help you. Can't find what you're looking for on our blog? Comment below and let us know what you want us to discuss next!
The original version of this post was coauthored by Standard Marketing Ltd., a Vancouver-based marketing business and longtime colleague of myRealPage.