How to Get the Most Value From Home Staging Your Real Estate Listings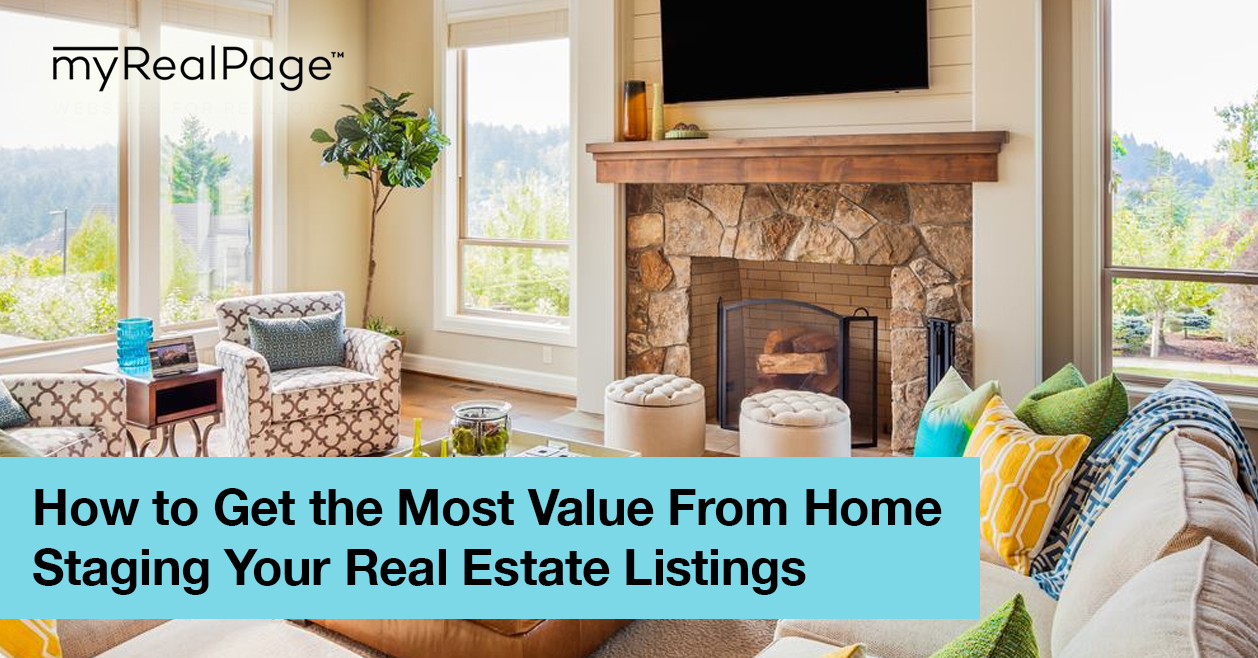 We've all seen the difference a good home stager can make.
A skilled stager can take an outdated, empty, boring or downright ugly home and turn it into a property that attracts competing offers.
There are even stats to back it up: according to the National Association of Realtors 2017 Profile of Home Staging, 62% of sellers' agents find that a staged home decreases the amount of time it stays on the market.
Impressive, right?
Well, mostly. Consider this stat from the same profile: 48% of buyers' agents said that staging has an effect on some buyers' opinion of a home — but not always.
And home staging isn't exactly cheap. Hiring a talented stager can eat into your marketing budget, so you want to make sure that you're paying for results.
To ensure that you're getting the most value from home staging your real estate listings, we've got some advice. Keep reading!
1. Clean and declutter first
Before you even bring a stager to the house, have your clients declutter, depersonalize and clean really, really well.
Doing so removes any distractions that could affect how a stager wants to tackle the project.
Sure, it's extra work for your client before you've even hired the stager, but it's well worth it. Having that clean slate could mean the difference between your stager wanting to spend thousands or hundreds on making the home look its best.
2. Don't just put a bandaid over it
You could spend hundreds on the services of a home stager to add beautiful furniture, decor and fresh flowers to a home – only to watch it linger on the market.
Because if that furniture, decor and flowers are actually just attempts to mask a home's problem areas — like stained and fraying carpet, burn marks on a countertop, a badly scratched floor — they're not going to deliver any value if a prospective buyer notices what's underneath.
In fact, trying to hide an issue like badly damaged flooring could end up costing you in the end when a buyer deducts the cost of replacing the floor from their offer.
Instead of spending your money on cover-ups, talk to your clients about investing some money in actually fixing the problems that need fixing. It will pay off when it comes to sale time.
3. Stage the house
before
creating your listing
The ROI provided by a home stager isn't just reflected in the final selling price of the home, but also in the level of interest and the number of offers that an amazing-looking listing generates.
Home hunters turn to the Internet to do their research, and photos speak louder than words. Bring a stager in to work their magic on your listing before you take photos of the home.
Good staging + good photography = a high-quality online listing that will get you major traffic, online and off.
4. Focus on high-profile zones and challenging spaces
By high-profile, we mean the rooms in a home that every prospective buyer will be zeroing in on: kitchens, bathrooms and living rooms.
These areas are where home dwellers spend a large amount of time, and where the costliest repairs and upgrades can happen. As such, staging them to look their freshest and newest will go a long way in convincing your buyer that your listing could be *the one*.
Challenging spaces should be another priority. This could be an oddly shaped or extra small room, or an area with a low ceiling — any spot that could have a buyer puzzling over how they would use it, or furnish it.
Don't give them a chance to fret. To popularize this collection, the company has released a special series of online friv games. Having these rooms professionally staged will show your buyer that these spaces are actually functional and attractive.
5. Stage condos and starter homes
Many realtors only pay to stage homes with a high list price. But staging smaller properties, like condo units and starter homes, can be well worth the investment, for several reasons:
You'll attract a larger pool of interested buyers:

a house hunter might've skipped over a small condo or townhouse, but with amazing staging and photography (see #3 on the list), you'll capture their attention.

You'll appeal to millennial buyers:

A.K.A the largest adult generation in history. These buyers are typically looking for smaller, more affordable properties, but they want to see spotless, modern-looking options. Stage your listings accordingly.

You'll close faster:

because realtors don't often invest in staging condo units and starter homes, you'll stand apart from other, similar properties on the market.
What's the biggest return on investment you've seen from home staging?