A Step-By-Step Guide on How To Generate Leads From Your Real Estate Website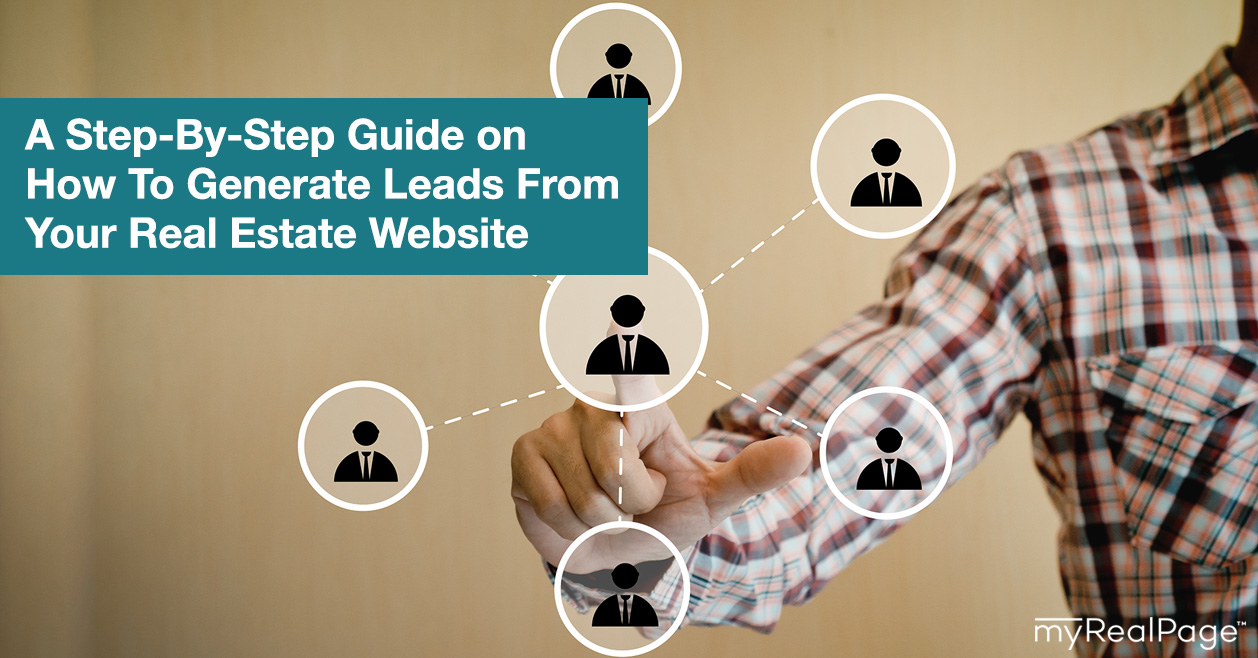 Hey, real estate fam.
Quick question.
How's your real estate website doing?
Is it bringing in leads on the regular? Or is it kinda just sitting there?
If your website falls into the latter camp, it's time we have a little chat.
About IDX.
IDX stands for Internet Data Exchange. In real estate land, IDX is what makes it possible to integrate MLS listings and search functions into your personal REALTOR® website.
But it's so much more than a nifty web feature. It can actually help you passively generate prospects.
In this post, we're going to show you how myRealPage websites for real estate agents (with built-in IDX capabilities) can help turn visitors into actionable leads.
How the IDX Tool Functions
The IDX tool on myRealPage websites replicates the experience of browsing an MLS website. A visitor to your personal real estate site will navigate to the Properties page, and select the option to search all listings.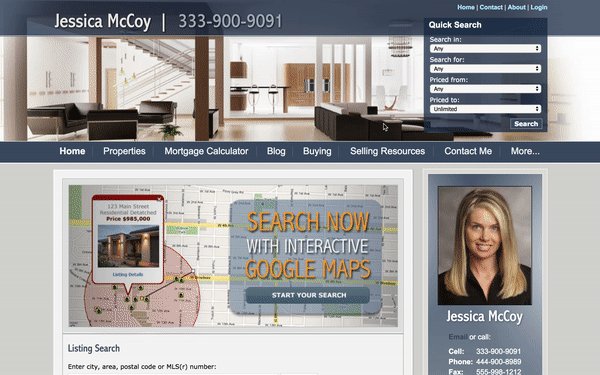 Now they'll be able to see a Google-powered map, dotted with listings, that they can explore by dragging their mouse around different parts of the map.
The listing icons will update as the user moves around. They can also use the search function of the map, where they can type in their desired location and select their desired property type, price range, number of bedrooms and bathrooms, and more.
At any time, the user can click on a listing icon. When they do, a thumbnail of that listing will appear in the sidebar alongside the map. They can then click that thumbnail to navigate to the dedicated page for that listing.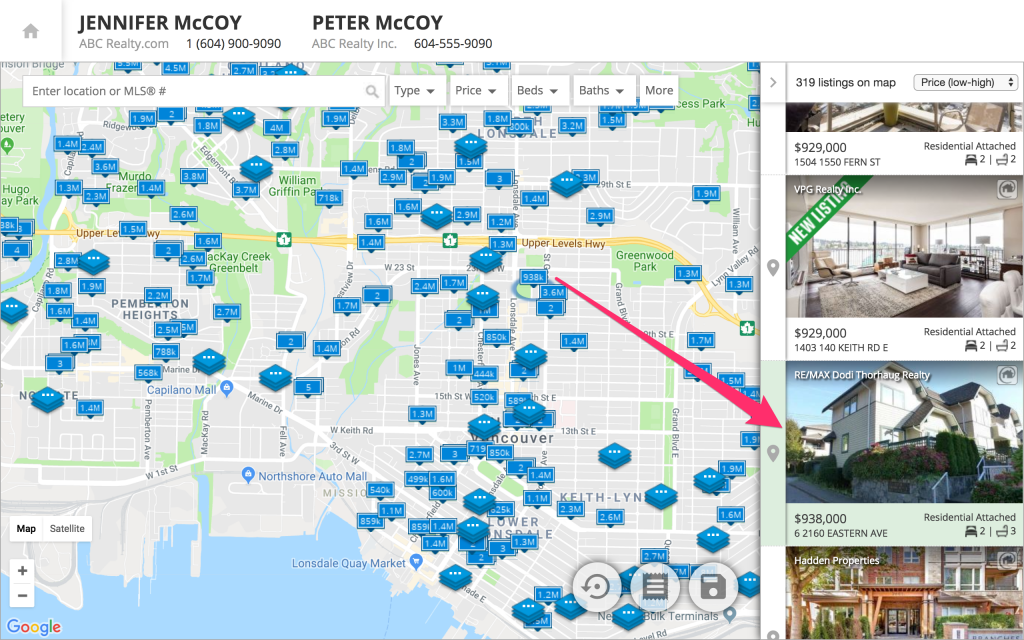 Now the visitor is looking at a detailed listing page that – we gotta say – is more user-friendly than a listing page on the MLS itself, with all the same content (and more):
Full-size, high-resolution images

A written description of the property

A detailed list of all the features and particulars

A map view

A location score

A mortgage calculator tool

Options to print and/or share the listing
But, the listing page doesn't reveal all the details of the property.
Some details, including information on heating, roofing, flooring and room dimensions, are hidden until the visitor signs up for an account.
More on this in a second.
The IDX tool also gives visitors the ability to save individual listings and to save their search (so that, for instance, they can receive notifications about new listings that fit their search criteria).
To make use of the aforementioned tools, as well as to see those hidden listing details, visitors will need to sign up for an account through your website.
Here's where lead generation comes into play.
How IDX Captures the Lead
To get all the listing information, a visitor will need to sign up for an account on your myRealPage website. This is called a Virtual Office Website or VOW. The sign-up calls-to-action are obvious, but not pushy; for instance, under the Room Information heading on a listing page, the room dimensions have been replaced by Sign Up buttons.
Other prompts on the listing page include:
A Sign Up button at the very top of the page

A heart icon, also near the top of the page. This is to save the listing, which they'll need an account to do
Similar calls-to-action can be found on the main search page. When a visitor uses the search menu to conduct a specific search, a Save icon (it looks like a bookmark icon) will appear in the bottom corner of the map. When the user clicks the icon, they'll be prompted to name their search, and then sign up for an account to save it.
How Agents Capture the Lead
Visitors have lots of good reasons to sign up for a VOW account.
When they do, they'll be asked to provide their first and last name, their email address, and their phone number, and to create a password. They'll also be asked to check boxes that signify their agreement to receive emails about listings that match their criteria, as well as about real estate news and updates.
After a visitor signs up, you'll receive two emails: one that alerts you that they've signed up, and another once they've activated their account.
Boom. You've got a lead.
Once you receive those notifications, you're free and able to follow up with your new lead directly.
(More on that in the next section).
Beyond signing up for an account, there are other ways that your IDX-enabled myRealPage website can capture leads:

When a visitor schedules a viewing

. This is a form that appears on the individual listing pages. In order to schedule an appointment, they'll need to provide their name and contact information. This information goes to you, the website owner, not the listing agent.

Via the 'Contact For More' button

. This button is also on the listing page. Once a visitor clicks it, they'll be asked to provide their name, contact information, and a message. Again, this information goes to you, the website owner, not the listing agent.

When a visitor clicks 'Compare on Market

.' Another listing page tool, this enables visitors to receive a free local housing report — once they share their name and contact information to you.
As a myRealPage website owner, you can choose to capture lead information even earlier in the process.
For example: you can choose to allow website visitors to view a maximum of two listings before requiring them to sign up for an account to see more. These settings can be adjusted in the backend of your website (under the Virtual Office Website section).
How Agents Can Capitalize On IDX Leads
In all the scenarios mentioned above, you, the real estate agent, will receive the visitor's contact information. Now you've got not just website visitors, but actionable leads.
What can you do with those leads?
Email them, of course!
Note: Are you a real estate agent in Canada? Due to anti-spam legislation, you'll need your leads to indicate their permission to be emailed before you contact them directly, usually through setting up the double opt-in feature.
Here are a few simple real estate lead email scripts to work from:
The Simple Introduction
Hi [first name],

Thanks for signing up for listing alerts on my website. I'm glad you did — it makes it painless to find great listings as soon as they're live.

You'll receive notifications when new listings match your criteria. I'll send along any helpful market information as well.

When you spot a listing you'd like to see in person, send me an email or call me at [your phone number] and we can set up an appointment.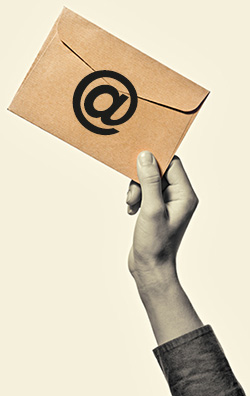 Talk soon!
The Content Offer
Hi [first name],

Thanks for signing up to browse and save listings on my website. I'm glad you did — it makes it much easier to discover new listings and store the ones that interest you.

I noticed you saved a listing in [area]. It's a great neighbourhood. I've published a blog post [or video] about the area's best hidden gems. Check it out [hyperlink]!

I'm happy to help with your search in any way, including setting up times to view a listing in person. Send me an email, or give me a call [your phone number].
Chat soon!
The Gentle Prompt (to be sent a couple weeks after signing up)

Hi [first name],

You signed up for listing alerts on my website a couple weeks ago. How's your search going? Any properties of interest?
I wanted to let you know that you can change your saved search criteria at any time. If you haven't seen any listings that interest you, I'd be happy to help. Can you tell me a little bit more about what you're looking for?

I'm happy to help with your search in any way, at any time. Send me an email, or give me a call [your phone number].
Chat soon!
What questions do YOU have about IDX, and how it can generate leads? We want to answer them. Share your questions below!