Use This Template to Write An Awesome 'About Me' Page in 10 Minutes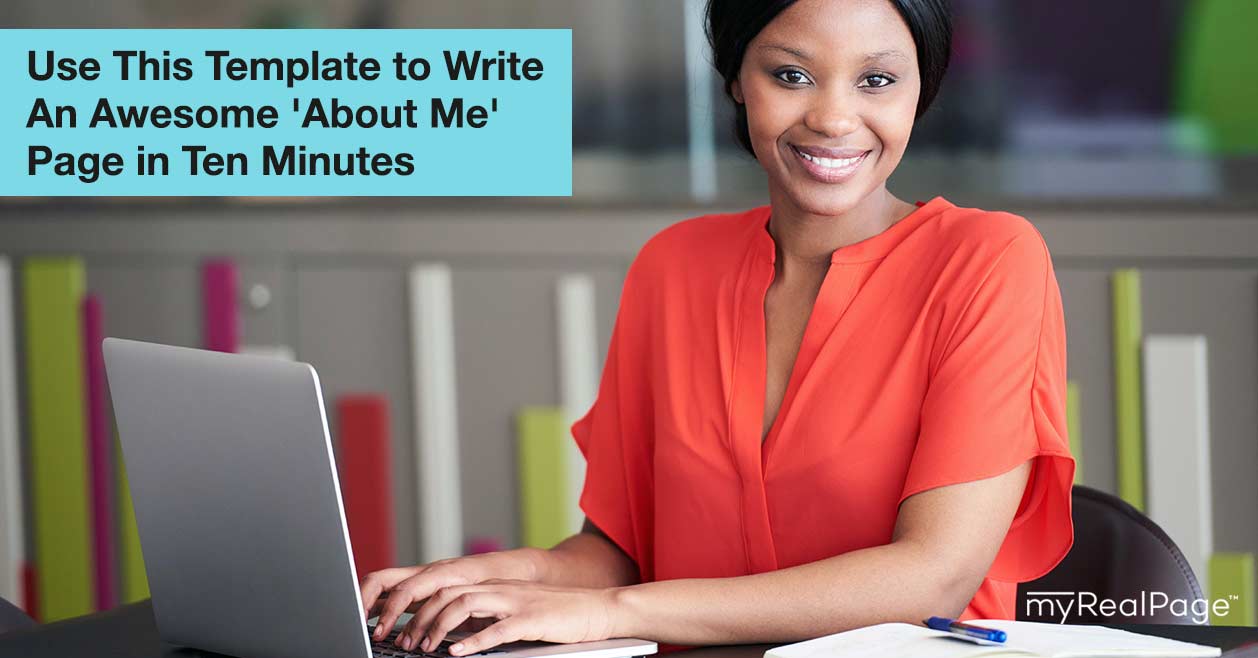 The ancient Greek philosopher Thales said, "The most difficult thing in life is to know yourself."
Thales obviously never had to write an 'About Me' page for his real estate website.
Writing about yourself is never easy, especially when your goal is to convince people to hire you. How do you describe yourself authentically and convincingly, striking a balance between selling yourself and not sounding full of yourself?
Simply skipping an 'About Me' page isn't an option, either.
Download Now: Use This Template To Write An Awesome 'About Me' Page In 10 Minutes [Get Your Copy]
Visitors to your website need and want to learn about you. Information about your latest listings isn't going to convince them to send you an email; your engaging and impressive bio will.
Your 'About Me' page needs to…
Reveal your personality

Share your qualifications

Promote your successes

Be engaging and friendly

Make you sound likeable

State your value
We've given you text message templates and handwritten thank-you note templates before.
Today, we're serving up a highly effective template for your real estate website's 'About Me' page to help you get it written and published in 15 minutes.
Writer's block, be gone!
We're treating this template like an outline, providing you with a structure for your page and content suggestions for each section. Let's begin.
1. Headline
This is the prominent text that will appear at the top of your 'About Me' page. Think of it as the title.
'About Me' isn't a strong enough title. Your headline needs to not only describe the content on the page, but also pull your readers in and make them want to learn more. Keep it short and sweet, but punchy and personal.
Some ideas to inspire you:
Representing [City]'s Most Prestigious Properties

[City]'s Most Trusted Condo Expert

I've Sold [Number of] Homes in [Region]. Is Yours Next?

The [City] Real Estate Agent Most Trusted By First-Time Buyers

Making Real Estate Dreams Come True for [Number of] Sellers and Buyers — And Counting
2. Introduction
You've hooked them with your headline. Now it's time to make sure they're actually going to stick around to read the whole page.
Your introduction should build on your headline. In these two to three short sentences, you want to briefly summarize:
Who you are.

Ex: "I'm a Toronto-based real estate agent…"

One of your main qualifications.

Ex: "… with more than 15 years of selling and buying experience."

Some of the value you offer.

Ex: "If you're looking for a REALTOR® with passion, enthusiasm and deep expertise, you've come to the right place."
3. Your Story
This is where you're going to go into more depth about who you are and what you do.
Your goal here is to provide some biographical information while also shedding light on your personality, your values and what makes you, you. It's your opportunity to establish a connection with your reader and convince them that you're a trustworthy and good-natured person, worthy of their business.
Here's what you should include …
When you started in real estate

Why you became a real estate agent, and why you love it

What you were doing before real estate, if applicable (Ex. "I come from a media background…")

Ongoing volunteer work or community involvement, if applicable

Your hobbies and interests
And what you might want to include …
Why you love living in the area

Whether you have kids or grandkids

Your favourite real estate memory

What inspires you
4. Your Unique Value Proposition
Your story can flow directly into your value proposition. In three to five sentences, you need to sum up what exactly you're bringing to the table.
For example:
"…. I was born and raised in Aurora, and now I'm proud to be raising my young family here. That's why I love helping people find their Aurora dream home. Having lived and worked here nearly my entire life, my local market knowledge is unparalleled. As a digital native with a marketing background, I create highly strategic and engaging marketing campaigns for each and every one of my clients, to make sure their homes get top dollar …"
If you're not sure how to identify and write about the value you offer, look to this list for inspiration:
Your education.

Do you have a degree in a field that is beneficial to your role as a real estate agent? Such as marketing, business, interior design or construction?

Previous experiences.

Perhaps you once worked for an interior design firm, or as a decorator's assistant, or as a reporter who covered the housing market.

Your background.

Do you come from a

family of real estate agents

? Have you lived in and worked in your town for your whole life? Maybe you're a millennial agent who knows social media better than anyone else.

Your level of experience. How long you've been working as a real estate agent is a selling point for plenty of prospective clients.
5. Accolades
Now you can mention a few things that serve as proof of your stated value proposition. Using a short bulleted list or a few brief sentences, rhyme off your …
Awards and honours

. Lists you've been named to, the fact that you belong to the top 3% of real estate agents in the province or country, community honours and more.

Statistics.

How many homes you've helped sell and buy, the dollar value of your listings to date and/or the number of clients you've worked with to date.

Key testimonials.

We'd caution against listing several testimonials here, as your page will start to become too busy and your word count too long. Instead, pick out one or two impressive client quotes. This could be a testimonial from a high-profile client, or a testimonial that's powerful and well worded.
6. Call to Action
You want to conclude your 'About Me' page with an action you'd like your readers to take.
This could be subscribing to your newsletter, signing up for a free assessment, scheduling a no-pressure introductory call or downloading a lead magnet, such as a market report.
Here's a list of seven great calls-to-action for real estate agents to consider.
Other Things to Remember
When putting your 'About Me' page together, keep these tips in mind:
Keep paragraphs and sentences short.

It makes your content easier to read. Don't be afraid of using multiple short paragraphs instead of one extra-long paragraph.

Use images.

Break up your text with photos of you, with your family, with a client, receiving an award and so on. Aim to incorporate two to three, depending on how much text is on your page.

Be personable. Stay away from jargon and complex words. Use simple, friendly language. Use your own writing voice; don't try to sound like someone else.
Edit your work.

Spelling and grammar mistakes hurt you by making you look less professional. Proofread your work several times or ask a friend to take a close look.

Use hyperlinks, but sparingly. You can link to other pages on your website, but not excessively — you don't want to distract your readers. The best camera for professional real estate photographers is usually going to be a telephoto lens. If and where it makes sense to do so, link to your listings page, a blog post or your contact information page. And make sure your links open in a new tab, not in the same window.
We hope this outline is helpful! Let us know what other questions we can answer about writing awesome 'About Me' pages.