7 Costly Real Estate Agent Mistakes and How to Avoid Them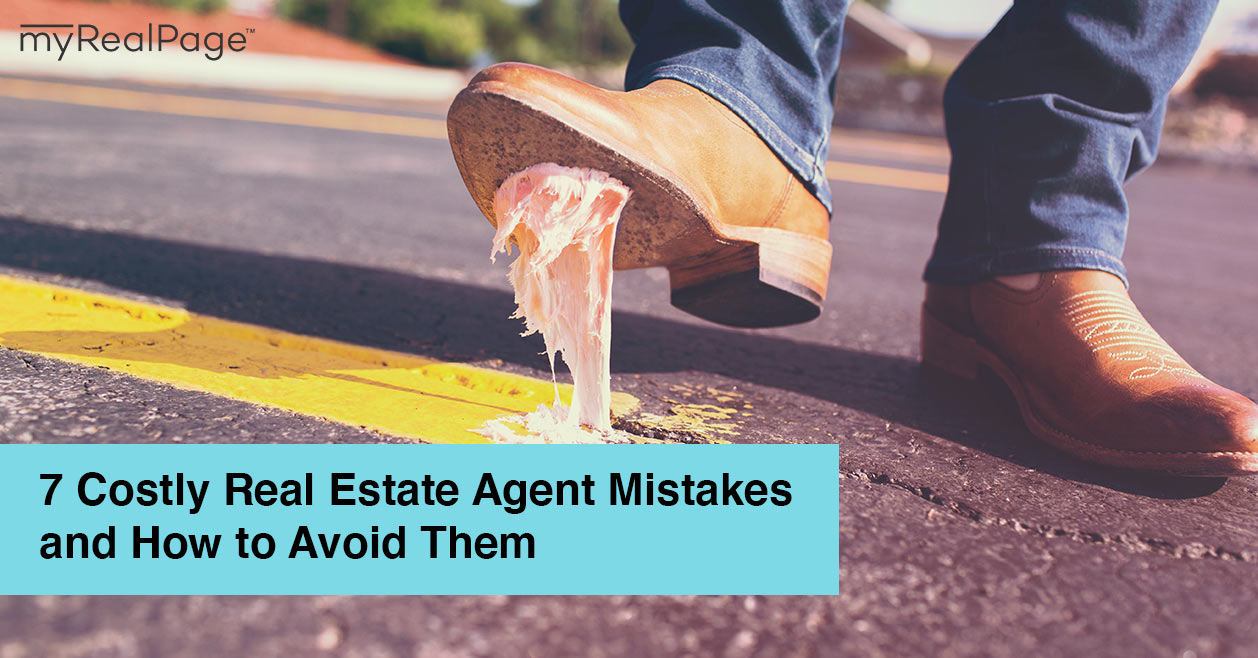 One of the best things about being a real estate agent is the independence it provides.
Real estate agents are their own boss. They set their own goals, their own schedule, and decide what kind of business they want to run.
But that independence has drawbacks, too. Like being 100% responsible for one's own success. 
That responsibility comes with a lot of pressure. And it means that real estate agents must always be evaluating their performance, reflecting on what they could tweak and improve.
This post can help with that.
Curious about what mistakes we most commonly see real estate agents making? Wondering if maybe they apply to you?
Keep reading to discover seven costly real estate agent mistakes — and how to avoid them.
Not Creating (and Following) a Marketing Strategy
Whether it's an IKEA dresser or a successful real estate business, building effectively usually requires following a set of plans.
One of the biggest mistakes we see real estate agents make is shooting from the hip when it comes to marketing their business. 
By that we mean that their marketing efforts are spontaneous, or reactive. They know marketing is important, so they try things, but there's no intention, planning or strategy. Their newsletters, blog posts, Instagram Stories and ads are inconsistent and infrequent.
The result: no results. 
The fix:
Put together a real estate marketing strategy. 
It doesn't have to be complicated or overly detailed — it just needs to outline a specific plan that will help meet your business goals.
With a marketing strategy in place, each one of your marketing efforts will have a purpose. Your strategy will keep you organized, focused, on track and moving in the direction of your goals.
Too Little Communication
Lack of communication is a common complaint amongst real estate clients. Buyers and sellers often report feeling frustrated by their real estate agent not being in touch, and take it as a sign that they don't really care.
Most agents don't do this intentionally. When things get busy, it can be easy to let too much time go by without touching base. And some agents are afraid of irritating their clients by over-communicating, which can sometimes have the opposite effect.
Whatever the reason, this is a common misstep with major consequences — a client who feels like they're not getting enough attention is going to be difficult to work with. Plus, they'll be less likely to provide a glowing testimonial even if you managed to sell their property successfully or find them a dream home.
The fix:
It sounds silly, but create a schedule for yourself. When writing out your weekly or daily to-do list, add notes to contact specific clients on certain days. 
If you don't always have updates to share, that's okay. It can be as simple as checking to see how they're doing, sharing a relevant news story, or sending them a funny real estate meme.
Too Much Communication
Some real estate agents make a different kind of communication mistake — too much communication.
Texts, emails and calls multiple times each day can leave clients feeling bombarded, irritated and wondering whether they chose the right agent. 
This mistake is often the result of being scared to under-communicate. 
The fix:
The same approach to under-communication can be used for over-communication: a note in your schedule about who you'll contact on which day.
Spending Too Little Time Generating Leads
Finding leads is probably the hardest part of real estate. 
It's necessary in order to get clients and grow, but it requires a lot of effort for what often doesn't feel like great results. It also takes a lot of time; lead generation isn't an overnight thing. It requires consistency and patience.
Plus, lead generation is awkward for a lot of agents. It means putting oneself out there at the risk of being rejected. And it often requires agents to act a bit more "salesy," which not all agents feel comfortable doing.
For these reasons, many real estate agents make the deadly mistake of spending too little time on generating real estate leads. As a result, their pipeline of potential clients is nearly empty and they may find themselves going long stretches between clients.
The fix:
Developing a lead generation strategy that suits your business, sticking to it, and being patient. 
There are so many different lead generation tactics available to real estate agents. Such as:
These tools can be used in combination to help bring in a consistent flow of buyer and seller leads. But they'll need to be used strategically (that's where your marketing strategy comes in) and you'll need to give them time to work.
Staying in Your Comfort Zone
Sticking to what you know is, well, comfortable. There's little risk — but often little reward.
It's like the saying goes: A ship in harbour is safe, but that is not what ships are built for.
Entrepreneurs — and yes, real estate agents are a type of entrepreneur — aren't meant to play it safe. To be an entrepreneur is to do things differently in order to find success.
One of the most common mistakes in real estate, especially for agents who have been in the biz for a long time, is to stick to the same old, same old.
Same branding. Same ads. Same look. Same strategy. 
But "same" gets boring. "Same" doesn't create room to try new things — new things that could be more effective. 
Real estate agents who stay in their comfort zone for too long risk being left behind.
The fix:
It's as simple as trying something new. 
Maybe you haven't dipped your toes into real estate videos yet. Time to give them a whirl.
Maybe your website feels outdated, and it's time to try a new look (may we suggest a real estate website template designed specifically for real estate agents?).
Maybe it's time to diversify your advertising, and trade newspaper ads for digital ads. 
Our advice: try one thing at a time. Experimenting with everything at once can feel overwhelming, plus it can spread you too thin, leading to poor results.
Weak and/or Inconsistent Branding
From logo to colour palette to font choice to voice and tone, real estate branding is what helps clients and leads distinguish your website, social media presence and ads from that of your competitor's. 
So many real estate agents never bother branding their real estate business. This is especially true for real estate agents who belong to established brokerages. Because these companies have their own branding, many agents don't see a need to create separate branding for themselves.
Some agents do develop a brand identity, but then are inconsistent about applying it. Their website, social media, and ads all look and sound different, which defeats the purpose. 
There's so much competition in the world of real estate. Branding is one way to stand out.
The fix:
Good news: branding your real estate business is fun. You get to make choices about how you want your business to look and sound, to create the impression that you desire.
This simple guide to real estate branding will help get you started.
Remember: consistency is key. If you don't apply your branding consistently in everything that you do, then it becomes ineffective. 
Forgetting to Ask For Testimonials
Forgive us for repeating ourselves but: real estate is a highly competitive industry.
In most markets, buyers and sellers are spoiled for choice when it comes to real estate agents for hire. 
They make their decision based on a variety of factors, but there's one factor in particular that can go a long way in tipping the balance: testimonials.
Real estate client testimonials are what help a client choose you over the competitor. 
They highlight all the things you want people to know about your services, in a way that's much more convincing than if you just said it yourself.
But so many agents leave real estate testimonials to chance. They either don't bother to request a testimonial, they forget, or they just hope the client will provide one without being asked.
This is a mistake. Just because a client doesn't automatically leave you a testimonial after closing, doesn't mean they aren't willing. Happy clients just need a nudge. 
The power of a testimonial far outweighs any awkwardness an agent might feel about requesting one.
The fix:
Make requesting a client testimonial a standard part of your real estate business. Treat it like writing a listing description, sending a contract, or collecting signatures — a part of the process.
To maximize the effectiveness of your testimonials, make sure you give your clients some guidance on where and how you'd like them to submit their review, as well as a few suggestions on what you'd like them to mention.
This guide to getting real estate testimonials from clients can help. 
What mistake do you often see fellow real estate agents make?