How to Launch a Successful Real Estate Blog in 2021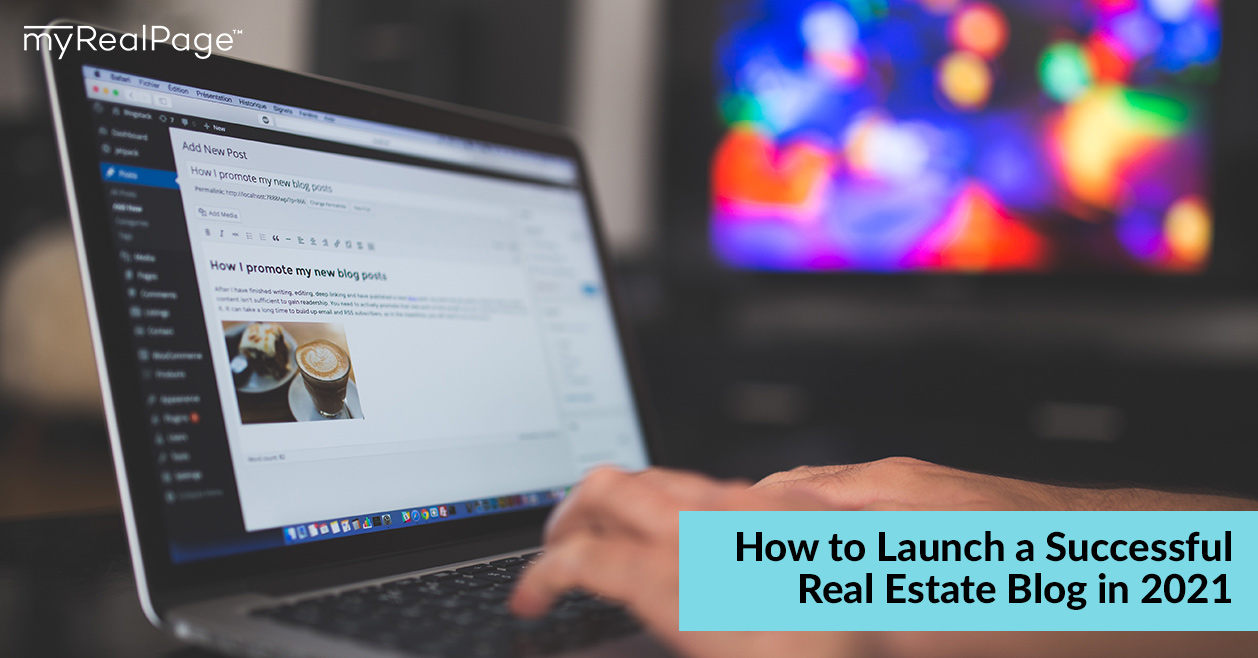 If starting — or restarting — a personal real estate blog is on your to-do list, you've come to the right place.
This post is all about how to launch a successful real estate blog in 2021.
We've talked about real estate blogs a lot in the past.
But like everything else on the internet, things move fast. Best practices are always changing. And so has our advice for real estate blogging.
In this post, we're taking it back to real estate blogging basics, updated for 2021.
Read on for the steps you need to follow to get your real estate blog off the ground this year.
Decide Where You'll Host Your Blog
First things first: where will your blog live?
Your personal real estate website is the most obvious answer and for most people, it makes the most sense.
Your real estate blog should live on your real estate website if:
Your website has a blog component. Blogs aren't necessarily like the other pages on your website. Websites with pages designed specifically for blog posts will typically have the option to include a publishing date, an author field, keywords, and so on. If your website has this component (psst: myRealPage websites do), you can hit the ground running.
You don't want to manage another site. If the idea of updating and managing a page or platform separate from your real estate website sounds stressful, stick with your site.
There are a couple instances where you might want to consider hosting your real estate blog elsewhere:
Your website doesn't have a blog component. If adding a blog to your real estate website is going to be a huge undertaking, consider hosting it elsewhere.
Your goal is to grow a broad audience that goes beyond your target market. If your dream is to become a recognized industry voice (or real estate influencer), hosting your blog on a different site can help expand your potential reach.
If either of the above apply to you, we recommend trying Medium. It's a hugely popular open platform where anyone can share their writing and discover writing by others. It's simple to use, offers ways to reach a broad audience, and can easily be shared via social media and your website.
Pick Your Content Themes
What will you write about on your real estate blog?
(Hint: the answer shouldn't just be "real estate").
With so many real estate agents writing content these days, it's important to establish your own specific content pillars (themes or topics) that you can focus on.
Examples of possible real estate content pillars include:
Local real estate market updates, explained
After the offer (advice, guides, stories and details about everything that happens after a successful offer)
How to sell your house
Life of an agent
Making a house a home (decor, staging and reno trends and tips)
Pick four or five themes to focus on, choosing those that are most relevant to your expertise and that make the most sense for your audience.
The best way to figure out what your audience wants to read: ask them!
We love Instagram Stories for this. Use the poll or question stickers to pick your audience's brain about what kind of content they want from you. That feedback will help you tailor your content and make sure that you have readers from the get go.
Brainstorm Blog Post Ideas
We recommend creating a bank of possible blog post topics for each of your pillars before you get started on the writing.
Having a list of ideas helps you:
Create a content calendar (we'll get to that next)
Connect your ideas to seasons, holidays and key dates
Plan and research your content in advance
Avoid the dreaded writer's block
To help get your creative juices flowing and the ideas rolling, do some competitive research. Check out real estate blogs belonging to other agents, or industry sites, or search for real estate topics on Medium.
Organize your ideas by theme in a document, and include any reference links to help jog your memory later when it comes time to write.
Come Up With a Content Calendar
With ideas in place, it's time to plot them on your real estate content calendar.
How you schedule your posts will depend on how much time you have to dedicate to your blog. Be realistic. A successful blog does not require seven posts per week; aim for at least three posts per month, and see how it goes.
Tip: schedule blog writing time in your calendar. If you've never written blog posts before, you may be surprised to find that it takes longer than you thought.
Give yourself between two and four hours to complete a post from start to finish — research, writing, editing, formatting, finding images and publishing.
Share and Promote Your Posts
Once you have at least three completed posts on your blog, it's time to start sharing.
Here's where you want to think about sharing:
Social media. Twitter, Facebook groups and pages, Instagram (Stories and/or grid posts), LinkedIn… you can share to all of them! Write a snappy teaser (don't use the same one for every platform), choose a relevant image and include a link (or put the link in your bio).
Newsletters. If you have a newsletter for your real estate business, blog posts make perfect content. Share one post per newsletter. If your brokerage has a newsletter and is open to including content published by its agents, share links to your recent posts for inclusion.
Media. If you've written about a topic that's currently newsworthy, consider sending your post to a local reporter or media personality. They might be interested in your commentary and could reference your content in their stories, or invite you to contribute a quote or interview. It's a great strategy for getting press for your real estate business.
Tip: you can share each blog post more than once. Just don't do it the same way each time. For example, if you plan on tweeting about a blog post that you've already shared, write a different teaser and use a different image.
Analyze and Rejig
After a couple of months of consistent blogging, take a look at your results.
If you have analytics for your real estate website, look at how many page views your posts received.
If you shared your posts on LinkedIn, Twitter and Facebook, check out how many people clicked and shared your link.
If you publish to a site like Medium, dig into the stats they offer for your published articles.
Based on your results, you might want to tweak your content pillars, blog post ideas, or publishing frequency. Don't be afraid to try out different writing or formatting styles, or an out-there idea. You'll only learn what works — and what doesn't — by experimenting.
Are you currently blogging for your real estate business? Why or why not?