5 Investments You Should Make In Your Real Estate Business This Year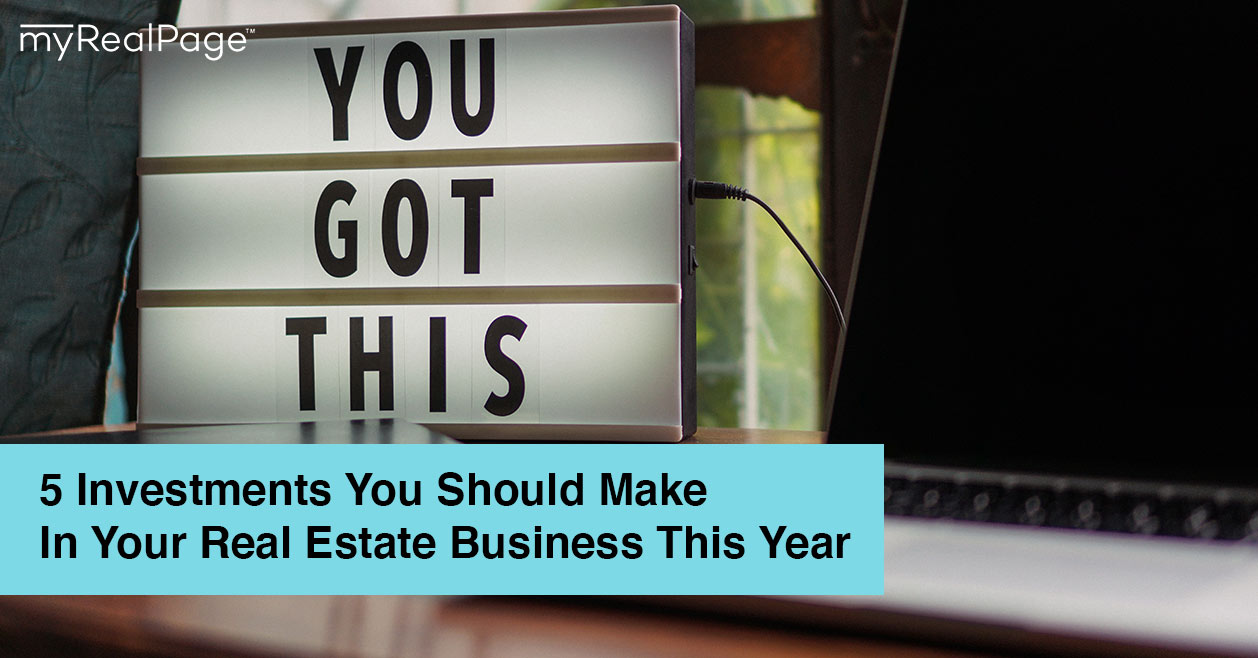 You get back what you put in.
That's true of most things in life. Generosity, gardening, exercising, savings accounts… and your real estate business.
If you want to see better results in your real estate business, you need to put something in. Your best efforts, of course, but something more — investments.
By investments, we mean products, services, advice, tools, strategies and education that cost money upfront but that pay off by helping take your business to the next level.
Ready to grow your real estate business this year? These are the five investments you should consider making.
Hire a Facebook Advertising Expert
Facebook Advertising is an incredibly powerful way to:
Grow awareness of your real estate business

Bring traffic to your real estate website

Reach potential buyers for your real estate listings

Build your real estate contact list
Facebook Advertising is also affordable, flexible and gives real estate agents plenty of control — which can be a bit intimidating, especially if you're new to the tool.
To get the most out of Facebook Ads for real estate, you need to understand best practices and strategies. Which is why hiring a Facebook Ads expert is a solid investment to make in your real estate business.
A Facebook Ads expert can help you design ads and build and run campaigns that maximize their effectiveness. And along the way, they can teach you so that in the future, you'll be able to successfully run your own Facebook Ads.
You can find a Facebook Ads expert for hire on freelancing platforms such as Upwork and Fiverr, or by looking for a local service.
Sign Up For a Social Media Scheduling Tool
Real estate agents often get social media fatigue. 
Coming up with ideas, finding time to post, engaging with followers, analyzing performance … it can feel overwhelming. Especially if you're not seeing the results you're after.
One way to beat back social media fatigue: sign up for a social media scheduling tool.
Services like Later, Hootsuite and SocialPilot take a lot of the work out of using social media to market your real estate business. 
While they all offer scheduling and analytics, we're fond of Later for real estate agents, since it offers a very visual way to plan your social media calendar. Which is especially great if Instagram is your main social media platform for your real estate business.
Many social media tools have free plans but they are typically quite limited when it comes to what features they provide access to and how many accounts or posts can be managed. For that reason, we recommend investing in a paid account.
Your social media workload will be reduced, you'll get detailed insights to help you better strategize, and planning out your next posts won't feel as daunting. It's a worthwhile investment.
Enroll in a Continuing Education Course
To attract clients and win business, real estate agents need to stand out from the competition.
One way to stand out: have a unique skill set. Bring something different to the table.
Investing in further education is a great way to do just that. We're not talking about keeping up with your real estate qualifications, which is a must. We're talking about "extracurriculars" — courses in areas that could complement your existing skill set. 
This could be a course in interior design, home staging, social media marketing, copywriting, or photography, for instance. 
Think about skills that a client might be impressed to find out that you have in your toolbox — skills that could help get their home sold faster. 
Already overwhelmed by the idea of trying to squeeze a course into your busy schedule? Take a breath. Many continuing education courses are offered in the evenings, on weekends and even online, making it more manageable for busy professionals. 
Refresh Your Website
Your real estate website is your first impression with potential clients. When they Google you, your website is likely the first result they'll see and click. 
That means your real estate website has a lot of responsibility. It has to create the kind of first impression you're after, and deliver the kind of information your potential clients are looking for.
If it's been years since you redesigned or thoroughly updated your website, now's the time to make the investment. 
Rewrite the copy. Refresh the look and feel. Add new pages and remove outdated ones. Check that it's SEO- and mobile-friendly. Implement IDX searches and sold listings data.
If you're doing all of the above yourself, it's an investment of time. And time is money. So if you want to save yourself some of the work — or make your website really shine with an expert's touch — hiring a website pro or using a professional real estate website template (here's why myRealPage templates are so effective for real estate agents) is a great investment to make in your real estate business.
Take a Vacation
You can't do your best work if you're exhausted, unmotivated and burnt out.
That's why taking a vacation is an investment with significant returns for your real estate business.
Time away — truly away, without phone calls to make and emails to respond to — helps real estate agents reset, clear their heads, unwind and come back more energized and more motivated. It's worth it. 
Real estate is an "always on" business, so it can be hard to imagine taking a vacation without needing to check in and stay near a laptop. But it's not impossible. Here's how to take a stress-free vacation as a real estate agent.
What investments are you making in your real estate business this year?