4 December (Fillable) Social Media Caption Templates for Real Estate Agents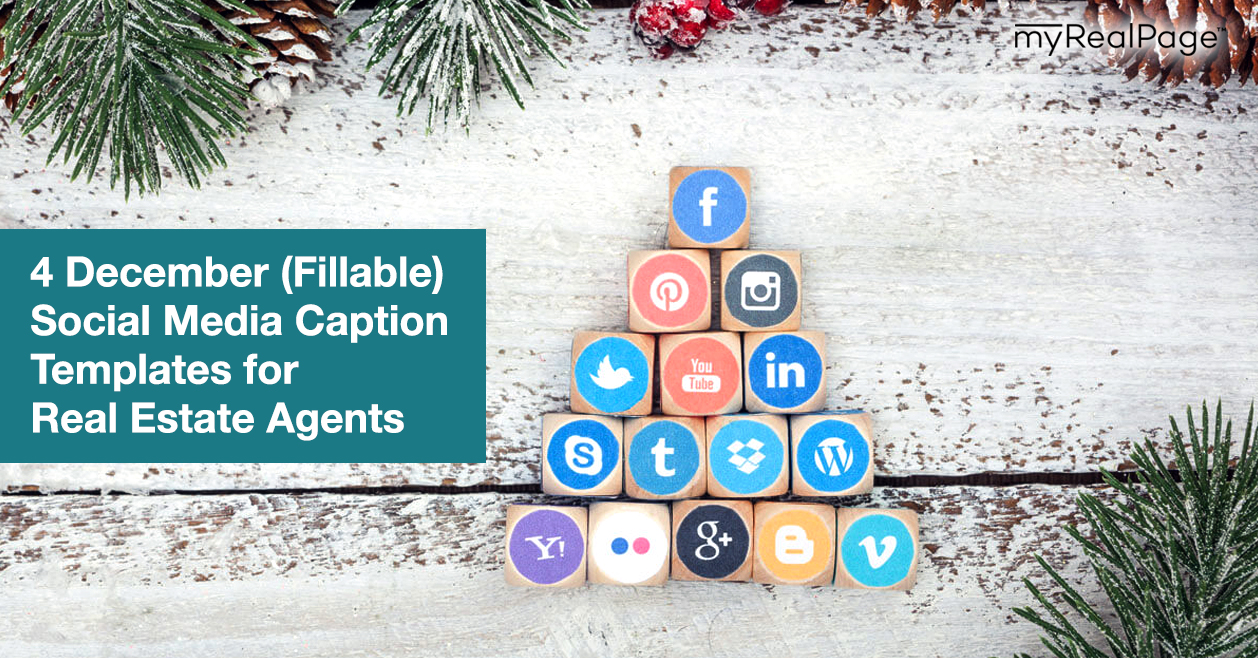 You'd be forgiven if all your social media efforts went out the snow-dusted window come December.
It's a nutty month. Holiday parties, end-of-year organization, future planning and family time.
Our gift to you: four unique social media post templates.
Tweak them here and there to suit your own business, add relevant hashtags when appropriate and voila – four less posts to worry about on your own.
If you need a little more creative inspiration, check out our ideas for November, October and September.
1. The "Let Me Introduce Myself" Post
Every once in a while, it's a good idea to introduce (or reintroduce) yourself to your followers.
Your social media bio and a scan of your past posts aren't enough to tell the story of your personal brand, which is a huge part of what convinces a potential client to work with you.
This introduction posts weaves in info about your business (including your experience and your skills), tidbits about your personality, and a value proposition for potential clients.
It's best suited for Instagram, though it can work on Facebook, too.
The image: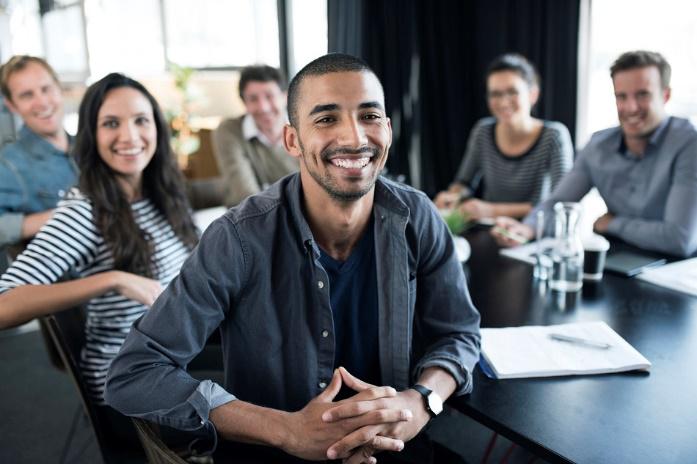 No headshots (unless it's a natural-looking photo in a regular setting, not a studio). Keep it feeling relaxed and relatable. Unless you're selling luxury real estate, in which case you'll want to keep it classy and aspirational.
The caption:
Hi! I'm [your first name]. I just wanted to welcome all the new folks around here. I'm thrilled you've joined and I'm looking forward to getting to know you.
A picture says a 1000 words but sometimes a short-and-sweet introduction says more 😉On that note, here's a little bit about me and my corner of [Instagram or Facebook].⁠⠀
💥 I've been a real estate agent in the [your city or region] area for nearly [length of your career] years now!
💥 I LOVE helping [your niche if you have one, such as first-time buyers; otherwise just say homeowners and future homeowners] find a place to call home.
💥 I promise that this page will always be a source of real estate news you can use, home inspo, the best new listings and probably a few jokes.⁠⠀
Who am I *outside* of real estate?⁠⠀⁠⠀
[Replace the following with details relevant to you]
🧀I'm a cheese freak. Favourite varieties: a *super* creamy brie or pretty much anything that [local cheese shop name] sells.
🏝️My dream vacation looks like a sandy beach with palm trees and margaritas-on-the-rocks that keep on coming.
👨‍👩‍👧‍👦I've got a 9-year-old boy who can tell you everything about Star Wars and a 6-year-old girl who has memorized the Frozen soundtrack.
That's me in a tiny social media nutshell. How about YOU? Any fellow cheese fanatics out there? Tropical getaway or mountain escape?
2. The "Festive Inspiration" Post
With holiday vibes in full force, it's a perfect time to share a roundup of your favourite festive decor looks. Think: beautiful Christmas trees, front porches and outdoor lighting, Hanukkah mantles,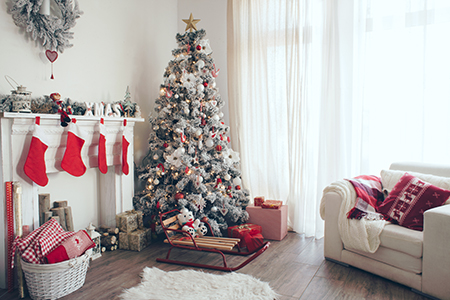 dinner tables and so on.
This idea works as a carousel of images on Instagram, an album on Facebook or a board on Pinterest. You can also create a blog post on this topic and then promote it over any and all social channels.
The image:
See above for ideas. Make sure they're high-resolution and that you provide credit where it's due.
The caption:
Holiday decorating goals 😍
Looking at these festive stunners makes me want to get cozy with a cup of cocoa (or spiked eggnog, let's be honest 😉) and watch "Love Actually."
How's your holiday decorating coming along? Which look is your favourite?
3. The "Happy Holidays" Post
This post is about wishing your followers a very happy holiday season, as well as sharing a bit about your personal life and communicating the details of your vacation and when you'll be back to work.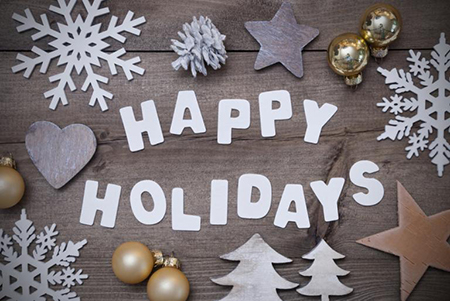 A reminder: make no assumptions about who your followers are and what they may or may not be celebrating. Keep it inclusive with a "Happy Holidays!" or take the opportunity to mention all December celebrations (Kwanzaa, Hanukkah, and Christmas, for example).
This post works for Instagram, Facebook and LinkedIn; a shortened version will work for Twitter.
The image:
You could create your own graphic or share an on-theme photo of yourself, such as in your own decorated home or with your team in festive colours or attire.
The caption:
It's time for me to sign off for a week's worth [or whatever the length of your holiday] of sleeping in, morning mimosas, family movie marathons, eating way (way) too many shortbread cookies and, most importantly, cherishing loved ones and time together 🍪❤️
I hope you have some relaxing and restorative days ahead, too. I'm wishing you all the joy of the season and the happiest of holidays. I'll be back at it on [your back-at-work date]. See you soon ✨
4. The "Year In Review" Post
Here's a chance to show off your real estate expertise and thank your followers and clients for an awesome year.
In a Facebook, Instagram or LinkedIn post — or a blog post that you promote on all your social accounts — offer a brief summary of how your local real estate market performed this year.
You can point out significant changes from the year prior, as well as information about any new policies or local real estate highlights. Finish it off with a line or two about your own business.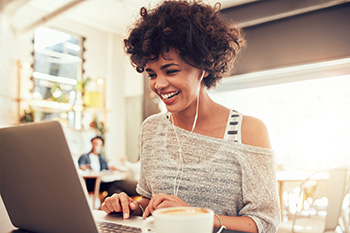 Time this post for around December 30 or 31.
The image:
A collage of great images from the year, or a year-in-review graphic.
The caption:
How is it already the end of the year?! This one flew by. Here are my big takeaways and observations about the last 12 months in [your city or region] real estate.
💥 [Fact or observation]
💥 [Fact or observation]
💥 [Fact or observation]
On a personal note, I feel deeply grateful to have had such a bright year, all thanks to the [number of clients you worked with this year] who made me fall in love with my job all over again ✨
It wasn't always easy (like [lighthearted anecdote about something that you and a client experienced together this year]), but it was always deeply rewarding.
Thank you, thank you, THANK YOU to my wonderful clients, past and present, for choosing me to be a part of your journey home. And thank you to all of you here for following along ❤️
May your New Year's Eve be filled with bubbly drinks, sparkly things and a whole lotta love. See you next year!
Are you going to use one of these templates as a jumping off point? Let us know which one!