How to Promote Your Open House Using Instagram, Facebook and Twitter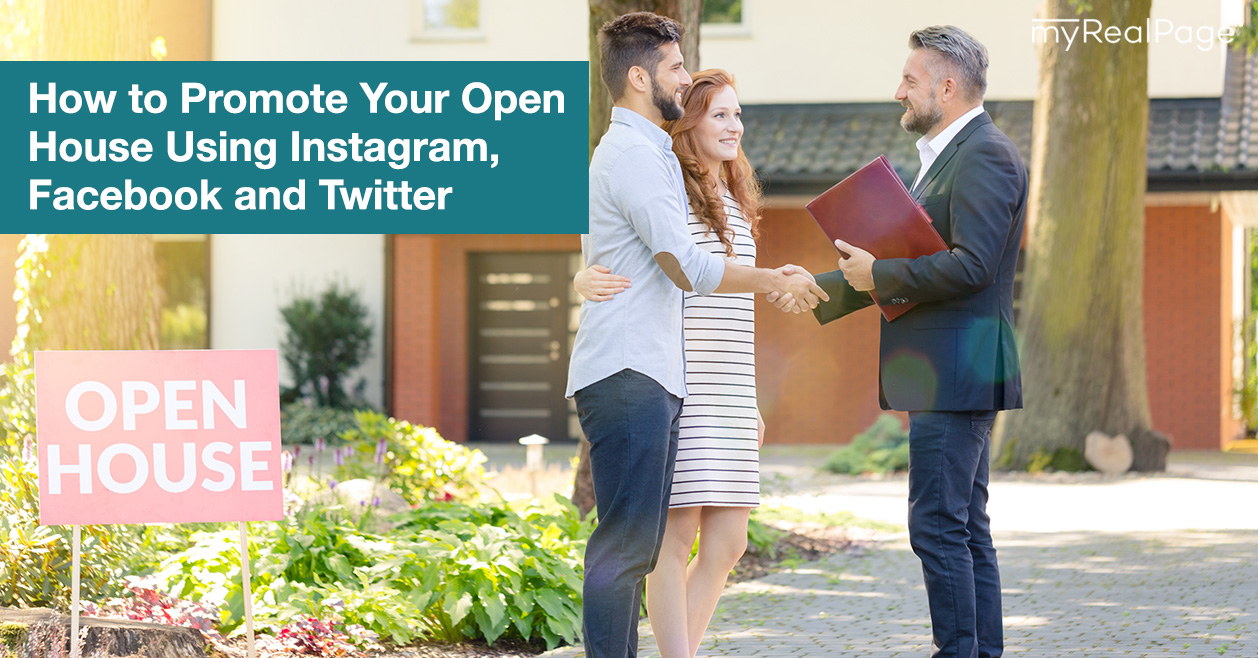 This post was recently updated in June 2022.
Gone are the days when your only option for promoting an open house was to put an ad in the newspaper, tell some friends and hope your balloons on the day of the event would attract a passerby.
The internet today is like your own personal advertising agency.
Choosing from one of many social media platforms available today, you can put together a cool-looking promotion and capture many, many more eyeballs than your local newspaper ad might succeed in doing.
So what does advertising your open house online actually look like in practice?
Like this. 👇👇👇
Here's how you can use Instagram, Facebook and Twitter to promote your open house online.
Instagram
As the most visual of the three major social media platforms, Instagram is where you can be really creative with your open house promotion using a variety of features in the app.
REELS
Create a teaser video! Reels are vertical (so you can shoot them on your phone) and can be up to 60 seconds in length. Your teaser could be a sped-up video of you walking through the house or a clip where you show off a few of the home's best features to entice your viewers.
Include the open house details so your viewers know where and when to show up, and choose an enticing cover photo. When you've published your reel, promote it in your regular posts.
For plenty more IG Reels tips, check out our guide to REELS for REALTORS®.
Stories
Unlike Instagram Reels, which stay up for as long as you choose, Instagram Stories are only live for 24 hours. This makes them perfect for ongoing promotion. A few days before the open house date, share a great photo of the home's exterior and add the event details as a text overlay. Or film yourself standing outside the home, verbally sharing the open house details.
Post another Story promotion every other day, culminating in one final reminder on the day of.
Or, try a week-long promotional series along the lines of "five reasons why you NEED to come to the 19 Rusholme Court open house on August 30th." Each day, share another reason to your Stories. These reasons could be the home's amazing location, its awesome pool or its stunning vistas.
Highlights
Create an Instagram Highlight for your Instagram profile specifically for the house you are showing. For example: "19 Rusholme." Then, add the Stories you've created to promote the open house to the Highlight "19 Rusholme." Because Highlights live just beneath your Instagram bio, visitors to your profile will see the promotion front and centre.
Post
On top of your Reels, Stories and Highlight, sharing a good old-fashioned Instagram post in your feed to promote the open house shouldn't be forgotten. You can use one of many photo editing apps to create an eye-catching graphic, featuring the open house details as text on top of a photo of the house. Or, use the same graphic and follow it with a carousel of photos, showcasing the home's best features.
Once the post is live, add an Instagram Story alerting your followers to the new post.
Facebook
The two best ways to promote your open house on Facebook: on your business page and with an ad.
Page
Take a few of the best photos from your listing and create a Facebook album. The title of the album can be something catchy, but should include the home's address. Then, share that album to your page with information about the upcoming open house.
If you created a video for your listing, upload that to Facebook (or make a new one, using an easy-to-use tool from the suggestions that we list here) and use it to promote your open house. Facebook loves video content uploaded directly, rather than shared from YouTube, giving your content a better chance to be seen by your followers.
Ad
Our love for Facebook Ads hasn't wavered. They still offer the best options for targeting a specific audience – for the best price.
You can promote the open house post that you published to your Facebook page. Or you could create a Facebook event for your open house, invite all of your page's followers and then create an ad to promote the event.
For more ideas and tips on Facebook Ads, read our guide on how REALTORS® can use Facebook Ads for major success.
Twitter
Twitter isn't as visual a platform as Instagram or Facebook, but that doesn't mean you should ignore it as a tool for promoting your open house.
One of the best ways to promote your open house on Twitter: by creating a Twitter thread.
(FYI: a Twitter thread is a series of connected tweets published by the same user. It's used to keep tweets on the same subject organized).
How to thread your Tweets together:
1) Send a Tweet.
2) Click "Reply" on that Tweet.
3) Delete your @ username and send a another Tweet.

— Twitter Support (@TwitterSupport) March 8, 2014
First, choose the best photo from your listing and make sure it's sized correctly for Twitter (many photo editing apps have Twitter layouts that can help you with this). Publish a tweet with that photo, along with some text along the lines of "Live in Toronto? You don't want to miss this open house. Here's why."
Then, respond to that tweet with another tweet. This subsequent tweet can include a reason why your open house is a must-see, along with another listing photo that illustrates your point. You can repeat this two or three more times to create a thread that a user can click on and read through. Conclude with a final tweet with all the open house details.
Don't forget to use relevant hashtags in your tweets as well!
Are you already using social media to promote your open houses? What's working and what's not? We'd love to hear!