How to Stay in Touch With Real Estate Clients (and Win Future Business)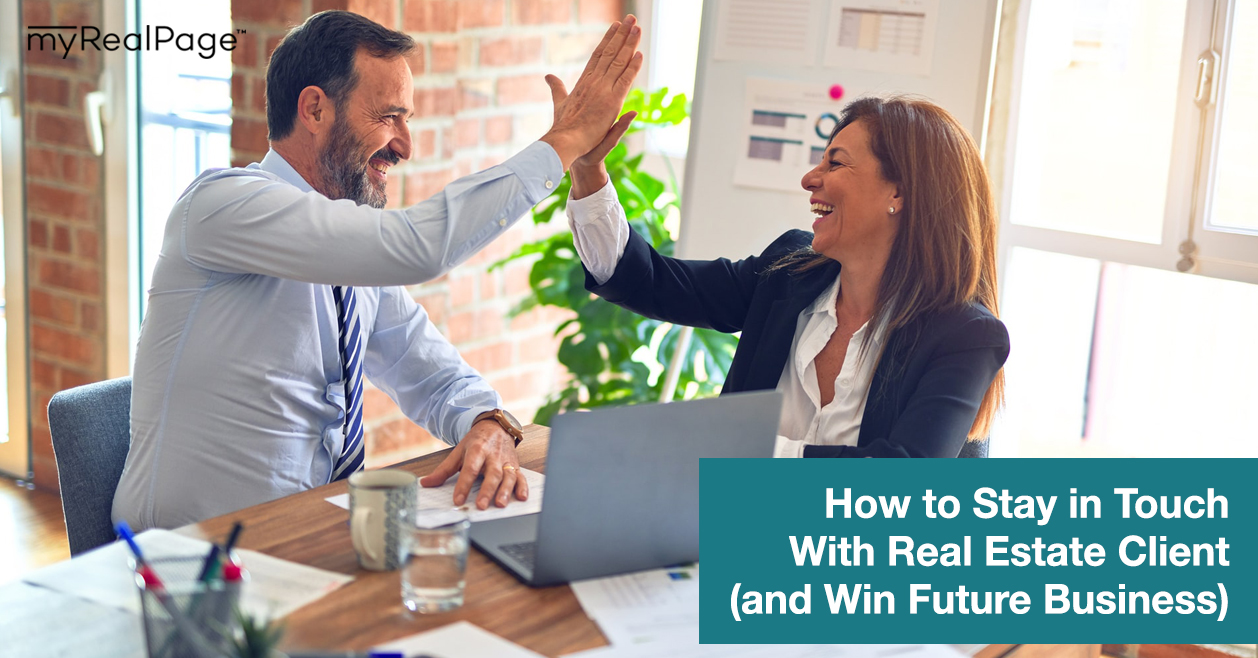 Once the ink has dried and the house has closed, do you:
a) say goodbye to your clients forever?
b) try to keep in touch?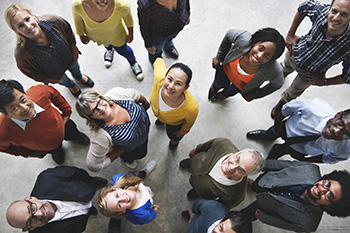 The answer that's better for your real estate business: staying in touch.
Keeping the lines of communication open and the relationship warm is more than just a nice thing to do. It's a strategic thing to do.
Staying in touch with real estate clients helps cement your great reputation and keeps you top of mind, both of which go a long way in helping you win future business. Your client's future business and the business of their family and friends looking for a recommendation for a great real estate agent.
But it's not as simple as sending an annual holiday card. It's about staying in touch the right way.
The right way = sincere, personal and well-timed contact that makes your client feel more like a friend than a source of income.
So, what does the right way look like? Like the tactics outlined in this post.
Keep reading for a crash course in how to stay in touch with real estate clients and win future business.
Get Social
Following your clients on Instagram, Facebook and/or LinkedIn is by far the easiest way to stay in touch.
But it's not just about following. Staying in touch the right way on social media means engaging. And not just liking photos, but interacting in a genuine way — leaving comments, reposting, and responding with a direct message when it makes sense to. Just don't go overboard; keep your interactions at the same level as you would with a casual friend.
While this form of staying in touch is by far the lowest hanging fruit on this list, it isn't a one-size-fits-all solution. Nor should it be the only way you stay in touch.
If you request to follow a client's private social media account and they don't accept your request, politely move on and test the waters with another suggestion on this list. It doesn't mean your client doesn't like you or wasn't happy with your service; some people simply prefer to keep their circles small, online and off.
If you are able to follow your client, don't let your efforts to keep in contact end there. Couple it with another tactic on this list to ensure you don't fade into the social media background.
Tap Into Their Interests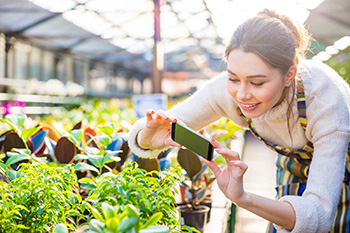 Sure, you could fire off the occasional, random text message or email to your client ("Just wanted to say hi!") but the payoff is low. They may or may not respond. And if they do, what follows will likely be a very brief exchange of pleasantries before the conversation dries up.
A short, awkward back-and-forth is not going to win you any accolades.
The better way is to reach out when you have something to say. More specifically, when you have something to say that they are interested in.
This could be:
News about something you know they have a connection to (e.g., their favourite bakery in town is closing)
Related to a shared hobby or passion (e.g., sharing a recipe if you both love to cook)
A meme that reflects an inside joke or memory from when you were working together
A recommendation for something near their new house (e.g., a great new restaurant that just opened or a hiking trail)
A question, such as asking for advice or a recommendation for something you know they have a lot of experience with
Any of the above are good reasons to get in touch by emailing, texting or picking up the phone. It gives purpose to you reaching out, and it helps transition your relationship to friendly rather than strictly professional territory.
Gift a Little
There's the closing gift of course, but we're talking about gifts you can give in the months or years after you've helped your client buy or sell.
A small, thoughtful, well-timed gift can go a long way in helping you stay memorable to your clients. Gifts like:
Tulips for Mother's Day
Holiday gifts, like a box of cookies or an ornament
A bottle of wine on the anniversary of their new home move-in
Chocolate bunnies for the kids on Easter
Sparklers and a small Canadian flag for Canada Day
Don't go overboard (there is a fine line between appearing thoughtful and generous, and overbearing and uncomfortable), but try combining a gift once a year with other ideas on this list to have an impact.
Extend Invites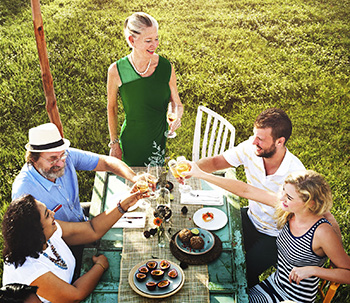 Texts, emails, Instagram direct messages and gifts dropped off on doorsteps are all lovely, but there's something to be said for maintaining that in-person connection.
Inviting past clients to events is a great way to do it. Client appreciation events, holiday drop-ins, street parties and community picnics and barbeques are perfect occasions for extending invitations to past clients.
There are a few things to keep in mind when inviting past clients to events and gatherings, to ensure it goes over well and helps (not hampers) your ongoing relationship:
Only invite past clients to events that make sense. An intimate dinner party may feel forced, but a neighbourhood barbeque is more natural.
Make sure to personalize your invitation so your clients know they aren't being invited by mistake or as part of a mass invite.
If your client accepts your invitation, make sure you spend some face-to-face time with them at the event. Greet them when they arrive, get them set up with a drink or food, introduce them to other people and don't miss saying goodbye when they leave.
After the event, follow up with a text message or email to thank them for attending.
After helping a client buy or sell a house, how long do you maintain contact for?